Japan Foundation / BAJS Japanese Studies Post-graduate Workshop 2016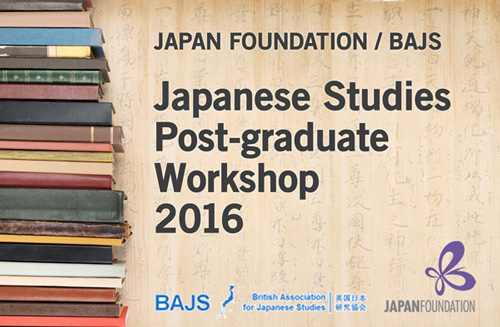 We are delighted to announce that the annual Japan Foundation/BAJS Post-graduate Workshop will be held on Thursday 4th February 2016 in London.
This workshop aims to assist the development of the next generation of Japanese specialists here in the UK, and to further strengthen the Japanese studies community in this country. It is a great opportunity to receive some practical advice on your research from senior colleagues, and to get to know fellow post-graduate students and others in the Japanese Studies community.
This year's workshop will include practical sessions on the following topics:
'Academic Opportunities outside East Asian Studies'
Professor Susan Townsend (University of Nottingham)
'Japanese for Academia: Culturally Convincing Japanese Academic Presentations using Social Media'
Dr Thomas McAuley (University of Sheffield) and Dr Luli Ishikawa-van der Does
'Panel Discussion: Early Career Development'
Panel of early career researchers and lecturers to answer your questions and give tips on post doctoral career development. Panellists include Dr Jonathan Service (University of Oxford) and Dr Ruselle Meade (Cardiff University).
'Funding your Research'
Representatives from Japanese Studies related funding bodies will give short presentations on their funding programmes.
The workshop will also provide opportunities for a small number of participants to give a 15 minute presentation on their research and receive feedback from each other and senior academics. If you would like to present your research, please email Julie Anne Robb at julieanne.robb@jpf.org.uk by 13th January 2016 providing your name, insitution, a title and a 500 word summary of your presentation. There will be a limited number of slots so early application is advised.
Date: 4 February 2016 from 10.30am to 6.00pm
Venue: Holiday Inn Bloomsbury, Coram Street, London, WC1N 1HT