Japan Foundation/JGap Japanese Language Teachers' Seminar: Self-Expressing Activities and Elementary Japanese Language Education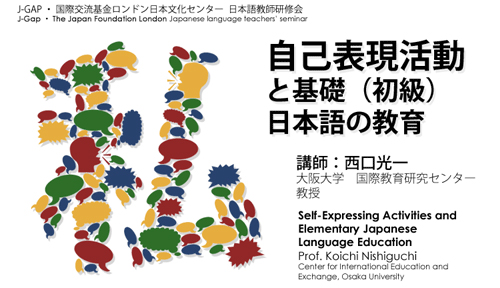 What does it mean to be able to function in Japanese? Up to now, language educators have been focusing on functional language activities such as asking for things or inviting someone to do something. But in addition to this kind of communication for practical purposes, there is also communication for social purposes. It is through social communication that speakers are able to mutually convey and understand a sense of "self." If we adopt self-expressing activities as the basis for elementary Japanese language curricula, students will be able to acquire proficiency in practical Japanese language use as well as basic knowledge of Japanese.
In this seminar, we will explore "Self-expression-based elementary Japanese language education," which is based on these ideas, with Prof. Koichi Nishiguchi, Center for International Education and Exchange, Osaka University.
Date: 20 September 2014 from 11.00am
Venue: The Japan Foundation, London