Japan Since 3/11: Recovery and Reconstruction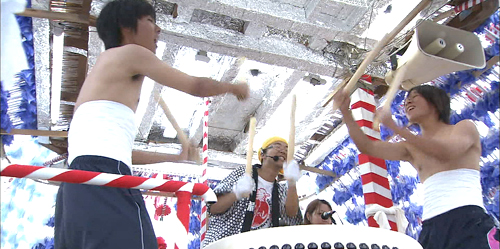 The Japan Foundation and the Japan Society for the Promotion of Science present an evening of film and discussion looking at the recovery and reconstruction of the Tohoku region following the earthquake and tsunami of March 11th last year.
Ofunato, in Iwate Preference, suffered devastating damage in the Great East Japan Earthquake. Kenichiro Yagi, an online fish salesman, quickly tried to respond to the tragedy with fellow fishermen. He took the first step towards recovery by resuming fishing from the debris-filled port, despite many boats having been washed away. This film documents the local fishermen's road to recovery three months after the disaster.
Japanese summer festivals serve as a time to hold memorial services for the souls of the departed. Although some of the many places devastated by the disaster of March 2011 were unable to hold their colourful and passionate centuries-old festivals, the people of Rikuzentakata, Soma, Minami Soma and some other cities decided to go ahead as usual. The film shows festival committee members busily repairing damaged floats and drums and encouraging the participation of dispersed former residents.
Date: 31 October 2012 from 5.00pm
Venue: Creative Lounge, Showroom Workstation, Sheffield