Japan Society Book Club: A Pale View of Hills by Kazuo Ishiguro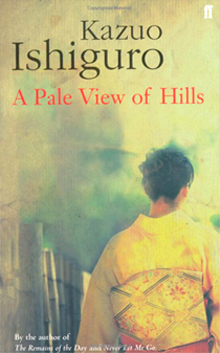 A Pale View of Hills, Kazuo Ishiguro's highly acclaimed debut novel, tells the story of a Japanese woman, Etsuko, living alone in England, who dwells on the recent suicide of her daughter. She retreats into the past and relives one particular summer in Nagasaki, in which she and her friends struggled to rebuild their lives following the war. However, as she recalls her past she remembers a strange friendship with a wealthy woman reduced to vagrancy named Sachiko.
Kazuo Ishiguro, born in Nagasaki in 1954, came to Britain at the age of five. He is the author of six novels: A Pale View of Hills (1982, Winifred Holtby Prize), An Artist of the Floating World (1986, Whitbread Book of the Year Award, Premio Scanno, shortlisted for the Booker Prize), The Remains of the Day (1989, winner of the Booker Prize), The Unconsoled (1995, winner of the Cheltenham Prize), When We Were Orphans (2000, shortlisted for the Booker Prize) and Never Let Me Go (2005, Corine Internationaler Buchpreis, Serono Literary Prize, Casino de Santiago European Novel Award, shortlisted for the Man Booker Prize). Kazuo Ishiguro's work has been translated into over forty languages and The Remains of the Day and Never Let Me Go have also been adapted into major films. In 1995 Ishiguro received an OBE for Services to Literature, and in 1998 the French decoration of Chevalier de L'Ordre des Arts et des Lettres. He currently resides in London with his wife and daughter.
The book club is held on the second Monday of the month. There is no restriction on the nationality of the authors read, but books should be available in translation in both Japanese and English. The discussion is conducted mainly in English, but you can choose the language in which you read the book. The intention is simple: to explore the themes of the book, express personal opinions on the style and content, discuss how the book has changed (or not) in translation and to have a relaxed discussion with others who have similar interests.
Date: Monday 2 April, 7.00pm
Venue: 5th View, Waterstones, Piccadilly, 203-206 Piccadilly, London W1J 9LE