Japan Society Book Club – Back Roads to Far Towns by Matsuo Basho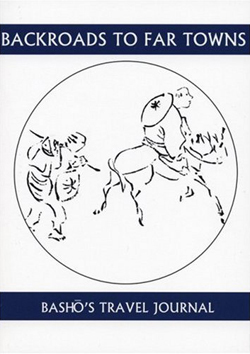 In the January dark of post-festive gloom, the book club will be setting out on a journey into the Japanese wilderness, in the company of Edo-era poet, Matsuo Basho.
This translation of his most mature journal, Oku-No-Hosomichi, details the arduous part of a nine-month journey with his friend and disciple, Sora, through the backlands north of the capital, west to the Japan Sea and back toward Kyoto. Travelling in medieval Japan was a dangerous undertaking, due to the immensity of the wilderness and the prevalence of bandits. For Basho, however, it became an essential means of escape and an affirmation of his art.
More than a record of the journey, the journal is a poetic sequence that gives glimpses of a lost Japan from a master at evoking landscape and atmosphere. Cid Corman's translation of Basho has been praised as a faithful rendering of the original, maintaining the density and terseness of the author's style.
Matsuo Basho (1644-1694) is the most famous Japanese poet of the Edo period. He made his living as a teacher and writer of haiku and is celebrated for his many travels around Japan, which he recorded in travel journals. His poetry is internationally renowned, and in Japan many of his poems are reproduced on monuments and traditional sites.
The book club is held on the second Monday of the month. There is no restriction on the nationality of the authors read, but books should be available in translation in both Japanese and English. The discussion is conducted mainly in English, but you can choose the language in which you read the book. The intention is simple: to explore the themes of the book, express personal opinions on the style and content, discuss how the book has changed (or not) in translation and to have a relaxed discussion with others who have similar interests.
Date: Monday 7 January 2013, 7.00pm
Venue: 5th View, Waterstones, 203-206 Piccadilly, London W1J 9LE