Japan Society Book Club – Masks by Fumiko Enchi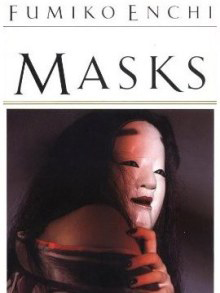 Masks is perhaps Fumiko Enchi's finest work and her first to be translated into English. In this subtle novel about seduction and infidelity in latter-day Japan and about the destructive force of feminine jealousy and resentment, Mieko Togano, a handsome and cultivated woman in her 50s, manipulates – for her own bizarre purposes – the relationship between her widowed daughter-in-law, Yasuko, and the two men in love with her.
A fascinating novel in which the author demonstrates her remarkable skill, weaving classical literature into contemporary settings by tracing the source of the mysterious 'power women still have over men'. An uncanny plot matched with great story-telling prowess.
Fumiko Enchi (円地 文子 Enchi Fumiko, 2 October 1905 – 12 November 1986) was the pen-name of Fumi Ueda, a prominent Japanese female author in the Shōwa period of Japan.
Although she had a successful debut as a playwright in 1926 it took Enchi many years to make it as a popular novelist, in part due to her ill health and the burning of all her possessions in an air raid on Tokyo in 1945.
In 1985, Enchi was awarded the Order of Culture by the Japanese government. She was elected to the Japan Art Academy shortly before her death on November 14, 1986, of a heart attack, suffered while she was at a family event in 1986 at her home in Tokyo. Her grave is at the nearby Yanaka Cemetery. In spite of her popularity in Japan, surprisingly few of Enchi's works are available in English translation.
The book club is held on the second Monday of the month. There is no restriction on the nationality of the authors read, but books should be available in translation in both Japanese and English. The discussion is conducted mainly in English, but you can choose the language in which you read the book. The intention is simple: to explore the themes of the book, express personal opinions on the style and content, discuss how the book has changed (or not) in translation and to have a relaxed discussion with others who have similar interests.
Date: Monday 11 November 2013, 7.00pm
Venue: The Old Star (basement alcove), 66 Broadway, London SW1H 0DB