Japan Society Book Club – Milky Way Railroad by Kenji Miyazawa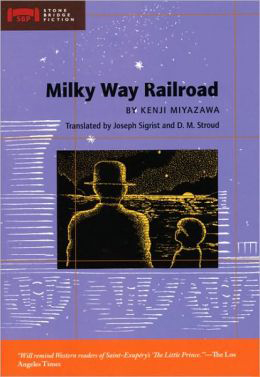 One night, alone on a hilltop, a young boy is swept aboard a magical train bound for the Milky Way. A literary, scientific, and religious fable, Milky Way Railroad depicts a universe that is intensely sad and yet profoundly miraculous. Beloved as a classic in Japan for its original and artful evocation of a child's yearnings, this tender fable is a book of great wisdom, offering insights into a strange and wonderful afterlife.
Although simple in style, Milky Way Railroad contains dense layers of symbolism and conveys a strong sense of the author's own system of morality. Sometimes translated as Night on the Galactic Railroad or Night Train to the Stars, the novel was written by Miyazawa in 1927 and posthumously published in 1934.
Kenji Miyazawa (1896-1933) is now widely viewed as one of Japan's greatest poets of the 20th century. Little known in his lifetime, he died at 37 from tuberculosis, but has since become a much loved children's author whose magical tales have been translated into many languages, adapted for the stage and turned into films and animations.
A man who rebelled against his upbringing and family, Miyazawa was reknowned as a devout Buddhist, vegetarian and social activist.
The book club is held on the second Monday of the month. There is no restriction on the nationality of the authors read, but books should be available in translation in both Japanese and English. The discussion is conducted mainly in English, but you can choose the language in which you read the book. The intention is simple: to explore the themes of the book, express personal opinions on the style and content, discuss how the book has changed (or not) in translation and to have a relaxed discussion with others who have similar interests.
Date: Monday 14 October 2013, 7.00pm
Venue: The Old Star (basement alcove), 66 Broadway, London SW1H 0DB
Fee: Free for Japan Society Members