Japan Society Book Club: Samurai William by Giles Milton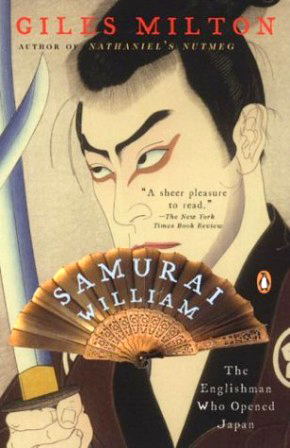 Samurai William: The Adventurer Who Unlocked Japan chronicles the life of a true explorer, William Adams, and the epic tale of his travels and life in Japan.
Born in a humble fishing town in Kent, the ambitious Adams learns the seaman's trade and rises to become the captain of his own ship. After several years working trade missions to North Africa and Europe, Adams marries and seems to have settled on his native soil. Then, rumours of a Dutch fleet sailing for the East Indies and beyond lures him from his wife and home. The voyage would define the course of his life and never see him return to England again.
Milton charts Adams' hazardous journey to Japan, across both the Atlantic and Pacific, leaving a trail of dead men and sunken ships, recounting the incredible hardships of 17th century exploration. On finally landing in Bungo, Japan, it takes the personal favour of the rising Tokugawa Ieyasu, to save Adams and his surviving crew from the Portuguese Catholics already entrenched in Nagasaki. Over the next thirty years the Englishman slowly turns Japanese, mastering the language and adopting every custom, eventually being invested with the title of samurai and a Japanese estate. By the time other English trade missions arrive, Adams is barely recognisable.
An historical novel based on extensive research, Samurai William paints a compelling portrait of the first Englishman in Japan. Historical accuracy does not entail any sacrifice in narrative pace, and Milton's story brings to life a great explorer with Robert Louis Stevenson-style gusto, reimagining an era at the crux of pre-modern Japan. Adams' tale is all the more remarkable considering that, after his death, Japan was to close its doors to the world for over two hundred years.
Giles Milton is an author obsessed with the lesser-known stories of history's lost adventurers and pioneers. His books have been published in seventeen languages worldwide and are international best-sellers. Meticulously researching the buried details of long forgotten lives, Milton revisits the drama of the past and the formation of countries and peoples that have gone on to define the modern world.
The book club is held on the second Monday of the month. There is no restriction on the nationality of the authors read, but books should be available in translation in both Japanese and English. The discussion is conducted mainly in English, but you can choose the language in which you read the book. The intention is simple: to explore the themes of the book, express personal opinions on the style and content, discuss how the book has changed (or not) in translation and to have a relaxed discussion with others who have similar interests.
Date: Monday 9 July 2012, 7.00pm
Venue: 5th View, Waterstones, 203-206 Piccadilly, London W1J 9LE
Fee: Free for Japan Society Members