Japan Society Book Club: The Cape: and other stories from the Japanese Ghetto by Kenji Nakagami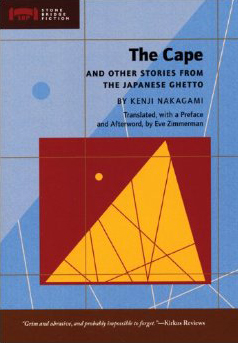 Born into the burakumin — Japan's class of outcasts — Kenji Nakagami depicts the lives of his people in sensual language and stark detail. The Cape — the title story from this collection — is a breakthrough novella about a burakumin community, their troubled memories, and complex family histories. The protagonist, 24 year-old Akiyuki, is the illegitimate son of a generally despised drifter known only as "that man." Akiyuki lives with his mother, stepfather, and stepbrother, and near his half-sister, Mie, a child from his mother's first marriage. While struggling to find his place in this patchwork family, Akiyuki vows to rise above the violence and squalor of his surroundings.
The book club is held every month. There is no restriction on the nationality of the authors read, but books should be available in translation in both Japanese and English. The discussion is conducted mainly in English, but you can choose the language in which you read the book. The intention is simple: to explore the themes of the book, express personal opinions on the style and content, discuss how the book has changed (or not) in translation and to have a relaxed discussion with others who have similar interests.
Kenji Nakagami (中上健次 Nakagami Kenji, 1946 – 1992) was a Japanese novelist and essayist. He is well known as the first post-war Japanese writer to identify himself publicly as a Burakumin, a member of one of Japan's long-suffering outcast groups. During the 1980s Nakagami was an active and controversial figure in the Japanese literary world, and his work was the subject of much debate among scholars and literary critics.
Date: Monday 12 October 2015, 7.00pm
Venue: The Japan Society, 13 / 14 Cornwall Terrace, London NW1 4QP