Japan Society Book Club: The Silent Cry by Ōe Kenzaburō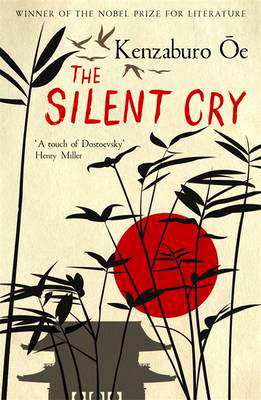 A tale of two brothers, The Silent Cry is the novel that established Ōe's reputation at the forefront of post-war Japanese writers. The book was awarded the Tanizaki Prize on publication in 1967.
The plot follows the lives of Mitsusaburo and Takashi, siblings whose entwined fates are littered with the tragic, the comic and the bizarre. After years apart, Takashi persuades an unhappy Mitsu and his wife, Natsumi, to return to their childhood village in rural Japan. The group travel through the depths of a Japanese winter to a place where family history, local rivalries and ingrained prejudice all come together.
Filled with dark humour, the novel portrays a lost rural Japan in fascinating detail, delving into the pyschology of place and individual and the narrator's struggle to come to terms with his future.
Ōe Kenzaburō is a major figure in contemporary Japanese literature. His works, strongly influenced by French and American literature and literary theory, deal with political, social and philosophical issues including nuclear weapons, nuclear power, social non-conformism and existentialism. Ōe was awarded the Nobel Prize in Literature in 1994 for creating 'an imagined world, where life and myth condense to form a disconcerting picture of the human predicament today.' Ōe was the second Japanese writer after Kawabata Yasunari to win the award and, in a direct parody of Kawabata's 1968 acceptance speech 'Japan, The Beautiful and Myself,' he presented his own acceptance as 'Japan, The Ambiguous and Myself.'
The book club is held on the second Monday of the month. There is no restriction on the nationality of the authors read, but books should be available in translation in both Japanese and English. The discussion is conducted mainly in English, but you can choose the language in which you read the book. The intention is simple: to explore the themes of the book, express personal opinions on the style and content, discuss how the book has changed (or not) in translation and to have a relaxed discussion with others who have similar interests.
Date: Monday 10 September 2012 (7.00pm)
Venue: 5th View, Waterstones, 203-206 Piccadilly, London W1J 9LE