Japan Society Book Club – Wonderful Fool by Shusaku Endo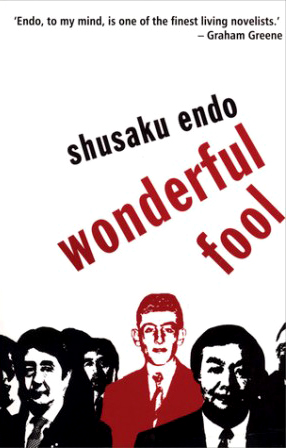 As Christmas approaches the book club will be turning the pages of Shusaku Endo's Wonderful Fool, a novel which focuses on the coming of a Christ-like figure to Japanese shores, a man who offers compassion to those he meets but rarely receives it in return.
The narrative follows Gaston Bonaparte, a seemingly slow-witted and shabby descendant of the illustrious Napoleon, as he arrives in Japan on an undisclosed mission. The irrepressible Gaston treats everything he encounters, man and beast, with benevolence and a disarming honesty. Hardened professionals and vengeful killers both fall prey to his simple love of all things, even as they try to abandon or destroy him.
The third of Endo's novels to be translated into English, Wonderful Fool is a mixture of sporadic violence and outright comedy and a scathing satire of Japanese society's reaction to an outsider.
Shusaku Endo (1923 – 1996) was an award-winning Japanese author, who's passion for French literature, and a steadfast Catholic faith, lend his novels their distinctive perspective. Plagued by illness for the majority of his life, Endo's work focuses on the notion of the outsider and the complex morality of modern life.
Date: Monday 10 December 2012, 7.00pm
Venue: 5th View, Waterstones, Piccadilly, 203-206 Piccadilly, London W1J 9LE
Fee: Free for Japan Society Members