Japan Southbank Night Walk Oct 29th 2011‏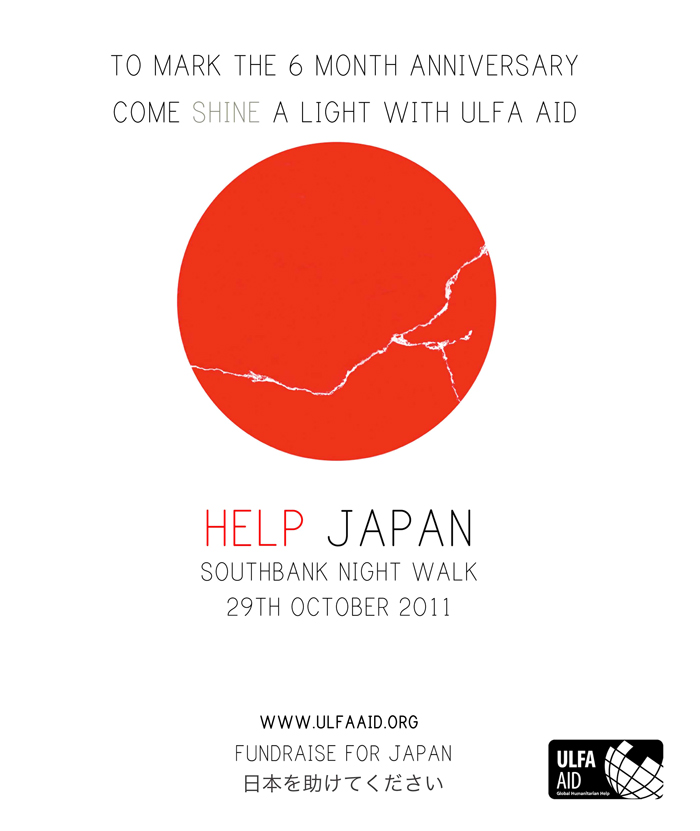 Date: 29 October 2011
Venue: Along the Southbank (Westminster & Lambeth Council)
Tel: 0207 018 1744
E-mail: info@ulfaaid.org
Web: http://www.ulfaaid.org
Organiser: Ulfa Aid
Come and embark on an exciting night walk with Ulfa Aid along the dynamic and awe inspiring Southbank. Take in the vast architecture or simply enjoy seeing the city illumined at night along the Thames riverside. Ulfa Aid is undertaking an exciting 5k walk along the Southbank to raise money for the construction of an orphanage. For children who sadly lost their families and communities during the 2011 Japanese Tsunami and Earthquake. Take in sites such as the London Eye, Big Ben, Embankment bridge, Waterloo bridge, Blackfriars bridge, Oxo tower, Southbank centre and The National Theatre, along with many other sights. This night walk is a fun and exciting evening for all the family to enjoy!
There is a £10 registration fee per person, which covers all admin expenses, light refreshments and money towards the project. This fee is non-refundable.
Participants are also encouraged to bring along and carry their own lantern's (adhering to the regulations) to walk with on the night. Showing solidarity with those who lost their homes and communities.
The aim of the event is to fundraise through sponsorship. The minimum amount of sponsorship we accept is £50.00 per person. Participants can fundraise, through various methods. E.g. setting up a Just Giving page, or any creative methods that you can come up with. We'd love to see your creativity in raising the funds.