Japan Underground ft. 8otto, NOKIES! and Miila and the Geeks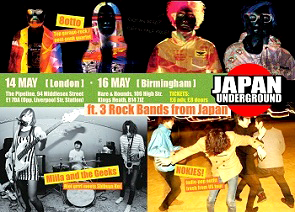 Japan Underground will pull off a very special showcase featuring three of Japan's hottest indie-rock acts this May.
Collectively, the bands have toured with Oasis, rocked America – twice, dominated Japan's Fuji Rock festival and caused a huge impact on their home country's indie rock scene.
Now, all three, 8otto, Miila and the Geeks and NOKIES! are joining forces for a night of quite possibly the best new music to come from Japan, and it's taking place right here in the UK at Hare & Hounds in Birmingham on 16 May.
8otto performed at Japan's coveted Fuji Rock festival last year and opened for Beady Eye as well as Oasis a few years prior. Their trademarked take on garage-rock is highlighted by their afro-donning frontman Masaki Maenosono, who belts out the group's catchy vocals from behind a drumkit.
Blissfully cheerful indie-pop unit NOKIES! toured America in March and recently travelled across Japan supporting Casiokids. Now they're heading to the UK for the first time and have already been causing a noise on Twitter about it with several musical figures tweeting about.
Last but not least is Miila and the Geeks – rated in Japan Times' 'Best of 2011'. This kooky female fronted band is clearly influenced from the riot grrrl movement and Japan's own trendy Shibuya kei style, and features a distinctively British swagger. Its vocalist Moe is also a respected figure in Tokyo unsigned scene, where she's a member of several influential bands.
All three acts will perform between DJs sets of classic and new tracks from Japan's rock, electronic and alternative genres.
Tickets are on sale now, priced at £6 in advance or £8 on the door. Door entry is half-price for anyone with an afro bigger than that of 8otto's vocalist.
Admission: £6 adv, £8 on the door. Tickets: http://www.wegottickets.com/event/164130
Facebook event page:
https://www.facebook.com/events/260536194036126/
More information available from the Japan Underground homepage:
http://japanunderground.wordpress.com/
Date: 16 May 2012
Venue: Hare & Hounds, 106 High Street, Kings Heath, Birmingham, B14 7JZ.
Email: tom.smith@twistedpr.co.uk
Web: http://japanunderground.wordpress.com/
Organiser: Japan Underground