Japanese Cinema for Busy People – Part 3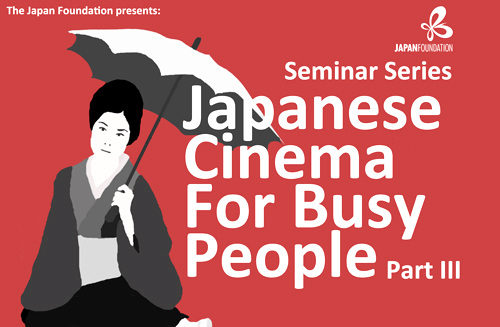 Looking to expand your knowledge on Japanese cinema? The Japan Foundation is inviting those fascinated by all things cinema, or all things Japanese, to join the third series of Japanese Cinema for Busy People.
Whether you are a dedicated cineaste or a casual moviegoer, all are welcome to join and enjoy! Experts in the field will hold lectures assessing significant topics in Japanese cinema, past and present. As a complement to the BFI and Japan Foundation season Two Masters of Japanese Cinema: Kaneto Shindo & Kozaburo Yoshimura, fill your Wednesday evening with a cinema lecture – without having to do any of the homework!
Dates: 13th, 20th, 27th June, 4th, 11th July – Every Wednesday
Week 1 – Wednesday 13 June 2012 – 6.30pm
Beyond Rashomon: A Golden Age of Japanese Cinema, but for Whom?
by Jasper Sharp (Writer and Film Curator)
Jasper Sharp will look beyond the Japanese filmmakers of the 1950s championed in the West to focus on the technological and industrial developments of the era considered the 'Golden Age' of Japanese cinema.
Week 2 – Wednesday 20 June 2012 – 6.30pm
Fidelity, High and Low: Japanese Cinema and Literary Adaptation
by Lauri Kitsnik (University of Cambridge)
Lauri Kitsnik will consider how the relationship between literature and film has developed through various periods of Japanese cinema and the way literary classics have been reinterpreted for the screen.
Week 3 – Wednesday 27 June 2012 – 6.30pm
The Meaning of Independence in Japanese Cinema: Production, Distribution and Exhibition
by Julian Ross (University of Leeds)
Julian Ross will discuss the meaning of independence in the context of Japan's film history, and examine the alternatives in distribution, production and exhibition whilst investigating what exactly is gained and lost with the decision to turn independent.
Week 4 – Wednesday 4 July 2012 – 6.30pm
Collaboration or Exploitation? The Relationship Between Japanese Directors and their Stars
by Tony Rayns (Writer, Film Critic and Programmer)
Tony Rayns will explore the creative relationships between Japanese directors and their stars, many of which instigated by contractual bounds under the Studio system, and how recurring actors can be both fruitful and restraining in film production.
Week 5 – Wednesday 11 July 2012 – 6.30pm
What's Happening Now in Japanese Cinema?
by Dr Rayna Denison (University of East Anglia)
As the final talk of the series, Rayna Denison will look into the current climate of the Japanese cinema industry and the production trend.

Date: 13 June 2012 – 11 July 2012
Venue: The Japan Foundation, London