Japanese Conversation Group Hanami Picnic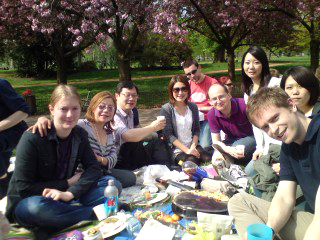 Each year the Conversation Group celebrates the coming of spring with its much celebrated Hanami or cherry blossom viewing picnic.
The Group will meet at 12.00pm at the east side of the Albert Memorial (to the right, when standing at the Albert Hall facing the memorial), and then settle in under the cherry trees 20 – 30 meters away for an afternoon of eating, drinking and chatting.
It is very informal, so friends and family are welcome. People come and go all day, so you can also dip in and out as you like. However, you are asked to bring some food and drinks to share, as well as any other picnic paraphernalia such as sheets to sit on, cutlery and cups, balls, frisbees etc.
In the unlikely event that it rains, the Group heads off to the Queens Arms pub, on Queens Gate Mews, where they serve Kirin Beer on draft. Even if the weather is fine, they are likely to be there after 5.00ish.
Date: Saturday 14 April 2012 (12:00pm)
Venue: Kensington Gardens (East side of the Albert Memorial)
No booking required