Japanese Culture in Practice: An evening of calligraphy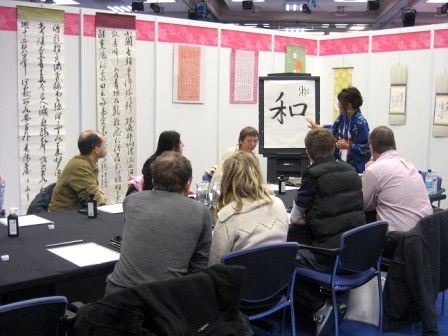 Have you ever wanted to try your hand at traditional Japanese calligraphy? Join the Japan Society for a calligraphy workshop with artist Yoko Takenami.
The workshop will begin with a brief introduction on the history of calligraphy, but will largely focus on practical demonstrations and a chance to hone your skills. The session will conclude with instruction on caring for the calligraphy equipment used.
This is a wonderful opportunity to try this quintessential Japanese art under the tutelage of a professional calligrapher. Beginners are welcome.
Ms Takenami gained a licence to teach calligraphy in 1990 and has since authored the English language publication The Simple Art of Japanese Calligraphy (Cico Books, 2004) which has also been translated into French and German. She is involved in a wide range of activity, conducting workshops and demonstrations in both the UK and Monaco while also giving lectures including at the British Museum and London University.
Date: Thursday 1 November 2012 (6.45 for 7.00pm)
Venue: Large Meeting Room, Nippon Club, 2nd floor, Samuel House, 6 St. Albans Street, London SW1Y 4SQ
Fee: £18 (£12 for members)
Booking deadline: Monday 29 October