Japanese Embroidery Exhibition by Ms Shizuka Kusano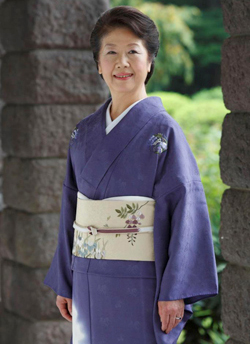 Date: 20 May 2011 – 21 May 2011 from 11.00am
Venue: St John's Church, West End of Princes Street, Edinburgh
Proudly presented by the Consulate General of Japan and Edinburgh City Council, Ms Kusano is the best-known textile artist in Japan today, regularly appearing on television and in magazines. She has held around 16 solo exhibitions over the past 10 years, and has published 5 books.
Shizuka Kusano is one of the most admired and recognized textile artists in Japan today. With the publication of The Fine Art of Kimono Embroidery, readers in the West will come to know and appreciate her work for its great beauty and grace. Kusano's canvases are kimono, obi (the sash used to tie the kimono) and tapestries, on which she creates extraordinary compositions in brilliant color and subtle tones, with a rich contrast in textures. Her themes are drawn from Japanese poetry, literature and art, and feature such seasonal motifs as trees, flowers, birds, and streams, designs which are uniquely Japanese in sensibility and expression. Working exclusively with silk threads and fabric, and delicately balancing the use of space in her composition, Kusano's designs achieve the sophistication for which the best Japanese art is known.
About Embroidery
Embroidery is the art or handicraft of decorating fabric or other materials with needle and thread or yarn. Embroidery may also incorporate other materials such as metal strips, pearls, beads, quills, and sequins.
A characteristic of embroidery is that the basic techniques or stitches of the earliest work—chain stitch, buttonhole or blanket stitch, running stitch, satin stitch, cross stitch—remain the fundamental techniques of hand embroidery today.
Machine embroidery, arising in the early stages of the Industrial Revolution, mimics hand embroidery, especially in the use of chain stitches, but the "satin stitch" and hemming stitches of machine work rely on the use of multiple threads and resemble hand work in their appearance, not their construction.