Japanese Gardens: Talk by Kei Ishikawa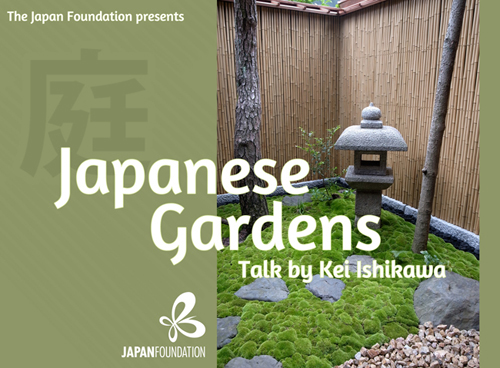 Traditional Japanese gardens utilise elements such as vegetation, ponds, islands and hills to make miniature idealised landscapes that mirror the geography of the archipelago. Different styles of gardens were created throughout history to reflect in a highly abstract and stylised way, cultural and religious characteristics of Japanese life at that specific period. Whether for contemplation and meditation or recreation and aesthetic pleasure, the exquisite environments have long captured the imagination of the West, influencing landscape designers and gardeners in abundance.
With gardening season having blossomed, The Japan Foundation has invited Kei Ishikawa, a professional gardener from the younger generation who has extensive training and expertise in Japanese temple gardens in Kyoto, to give an illustrated overview of Japanese gardens and what makes the style so unique and attractive. As a master practitioner, he will also give some technical tips on gardening skills as well as discuss the evolution of the aesthetics of Japanese garden florae and features, and the social positioning of gardeners in Japan. Whether or not you have green fingers, this talk promises to be a fascinating insight on landscaping in Japan from a specialist who is very well practiced in the topic.
Date: 24 May 2016 from 6.30pm
Venue: Foyles Bookshop, Level 6, 107 Charing Cross Rd, London WC2H 0DT