Japanese Plays and Playwrights Series Makoto Satoh – Ismene / The Underground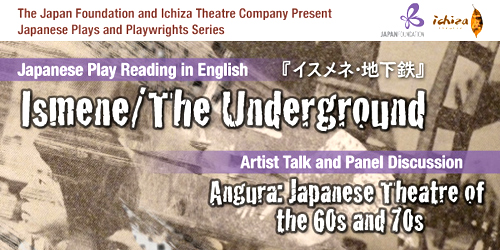 Date: 20 March 2012 – 21 March 2012
Venue: The Japan Foundation, London
The 1960s marked a radical turning point for the arts in Japan. The postwar generation finally rose against what it perceived to be the over-regimented societal structure which had developed in the aftermath of World War II; and it was in this rebellious climate that Japanese theatre was transformed. Ever since Japan ended its years of isolation, the dominant movement in theatre had been Shingeki (new theatre), reflecting Japan's eagerness to emulate Western modernism. However, this objective resulted in a significant lack of a modern theatre particular to Japan.
The 1960s saw the emergence of a new generation of practitioners seeking to liberate theatre from its creative standstill. Leading the way was playwright and director Makoto Satoh, who along with Shuji Terayama, Juro Kara and Tadashi Suzuki established the Freedom Theatre (Jiyu Gekijo) which formed the basis of the seminal angura ("underground") theatre movement. Deliberately exorbitant, and provocative, angura paved the way for today's thriving theatre scene in Japan. Written in 1966 when Satoh was only 22, Ismene and The Underground exemplify the energetic vision which has helped shape Japan's modern theatre history.
The Japan Foundation and Ichiza Theatre Company present the following two events:
Tuesday 20 March 2012 from 6.30pm
Japanese Play Readings in English: Ismene & The Underground
The readings will be followed by a Q&A with the playwright Makoto Satoh.
Wednesday 21 March 2012 from 6.30pm
Angura: Japanese Theatre of the 60s and 70s – Artist Talk by Makoto Satoh followed by a panel discussion
Panelists:
– Makoto Satoh director and playwright
– Nicholas Barter director, former assistant director for Arts Council England in 70s
– Hilary Westlake director, co-founder of Lumiere and Son Theatre Company
– Kyoko Iwaki performing arts journalist