Japanese Plus: Happy Family Plan – Learn spoken Japanese through film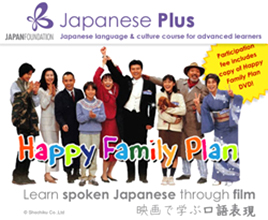 Happy Family Plan (2000) is the story of the Kawajiri family. Fujio, the father of the family, is suddenly advised that his job no longer exists due to a company restructure. With no apparent prospects of re-employment for Fujio, the family loses sight of all their hopes and dreams. Until they unexpectedly receive an invitation to be contestants on the popular TV game show "The Happy Family Plan" for the chance to win 3 million yen and make their dreams come true…
In this Japanese Plus course for advanced Japanese language learners, participants can enjoy learning colloquial Japanese by watching the movie Happy Family Plan. The aims of the course are for participants to:
Recognise different styles of spoken Japanese according to gender, relationships, personality etc.
Develop language skills in listening, reading and speaking of Japanese.
Gain confidence and broaden their knowledge of Japanese language, culture and society.
Participants will also receive their own copy of the Happy Family Plan DVD to watch for their own personal study and enjoyment at home.
Course Level: This course will be held in Japanese. It is for non-native Japanese language learners with an advanced level of Japanese (JLPT N2/level 2 and upwards).
Date: 4 – 26 June 2013 (4 weeks), Tuesdays or Wednesdays, 18:30 – 20:30
Venue: The Japan Foundation, Russell Square House, 10-12 Russell Square, London WC1B 5EH
E-Mail: Info.language@jpf.org.uk
Tel: 020 7436 6698
Deadline to apply: May 28th 2013
Admission: £30.00 (includes all 4 weeks and a copy of Happy Family Plan DVD)
Web: http://www.jpf.org.uk
Organiser: The Japan Foundation