Japanese Plus: New Japanese language and culture course for advanced learners – Read and Write Japanese Newspapers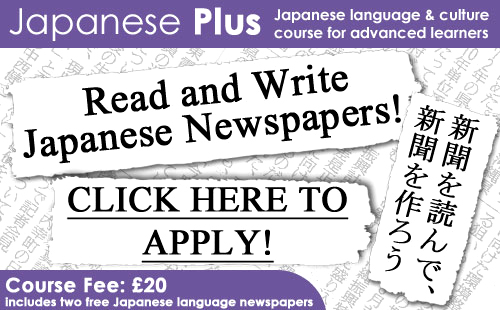 The Japan Foundation has launched a new Japanese language and culture course for advanced learners, Japanese Plus.
Japanese Plus is designed for adult learners interested in updating and refreshing their knowledge about Japan whilst practising their Japanese language skills in a series of evening classes at the Japan Foundation London. Whilst providing a genuine chance to look behind some of Japan's cultural issues, the course will also provide you with an ideal opportunity to improve all four skills of Japanese. The course format and content may already be familiar to previous participants of our former Talking Contemporary Japan seminars. The course level is aimed at learners with a Japanese level of approx. JLPT Level 2/N2 and above.
Date: 23rd February – 23rd March (4 weeks), on Thursday or Friday – the content is the same on each day, and you can choose which day is most suitable for you. You will not be able to switch days once the course has started.
Please note that there will be no session March 8th or 9th.
Time: 18:30 – 20:30
Course Capacity: Each course is limited to 24 people – strictly first come, first served. The minimum number of participants is 12; we reserve the right to cancel the course if fewer than 12 people apply.
Payment details: The participation fee for this course is £20.00. Payment must be made in advance or in person at the first session (23rd or 24th February), and cash only will be accepted. We regret that we cannot refund your fee once payment has been made and the course has begun, except in cases where Japan Foundation cancels the course.
for more details please click here