Japanese Poetry Recital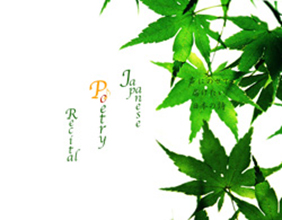 Reciting the poems written by a Japanese woman poet, Noriko Ibaragi (1926-2006), the performance will invite you to the discovery of the beauty, humour and dynamism of Japanese language in poetry.
Why not enjoy one summer night floating in the words and sounds accompanied by graceful music, which you might have never known before?
Performance by:
Hiroko Oba (poetry reading) & Kaori Brett (piano)
Booking & Enquiry (English or Japanese): info.uk.one.jp@gmail.com
*Please note that the performance will be mostly in Japanese.
*Booking required.
Tickets at the door. £7 Full price/ £5 Students (ID required)/ £3 Under 12s (ID required)
Date: 6 July 2013, 7.30pm
Venue: The Schott Music Shop, 48 Great Marborough Street, London W1F 7BB, UK
Box Office: 020 8447 0954
Email: info.uk.one.jp@gmail.com
Yuko Otsu