Kawaii as a Button! Cuteness in Contemporary Craft Practice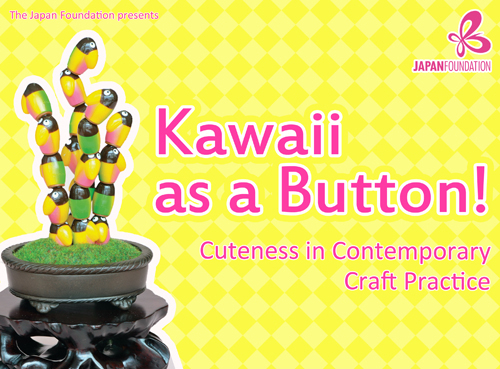 Kawaii, in simple terms, is a Japanese concept denoting a quality of cuteness. Its signature vibrant colour pallet and infantilised characterisation can be found almost everywhere and has arguably become synonymous with contemporary Japanese culture. Ubiquitous worldwide in haute couture, anime, manga, and even applied in fine art practice, kawaii has an ever-increasing influence across all creative industries. Yet, how do contemporary Japanese artists working with concepts of craft – normally regarded on the opposite end of the spectrum of cute as they are quite often associated with traditional skills and ideas – perceive and respond to this global phenomenon?
In this special talk hosted by the Japan Foundation, Japanese practitioners who use media and techniques close to craft production will challenge the standard concept of cute. Through presentation and discussion with Professor Simon Olding, Director of Crafts Study Centre, the artists will explore how their artisan pieces are influenced by kawaii culture including expressing their views towards the complex notion. They will also examine their expertise from both an ideological and practical basis, as well as consider how their handmade creations push the boundaries and elevate traditional Japanese craftsmanship and skills, blurring the line between visual art and craft utilitarian objects.
Date: 30 October 2015 from 6.30pm
Venue: The Small Hall, Kensington Conference Centre, The Town Hall, Hornton Street, London W8 7NX