KCC Special Concert featuring Baritone Claudio Jung and Pianist Grace Yeo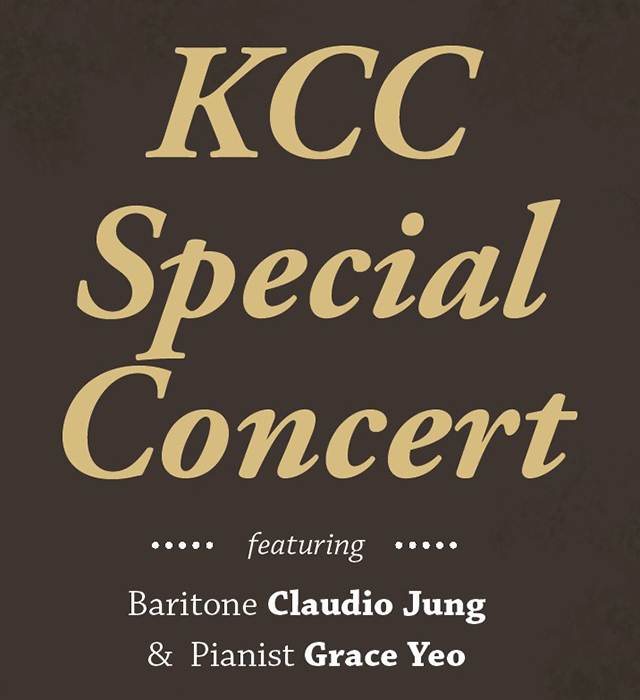 Date: Tuesday 23 February, 7 pm
Venue: Reception Hall, Korean Cultural Centre UK
Welcome to this special concert featuring the baritone Claudio Jung and pianist Grace Yeo at the Korean Cultural Centre UK.
The concert is a pre-event for Jung's 2018 Korea & UK recital tour. Claudio Jung has previously presented recitals at Carnegie Hall, New York in 2016, as well as the Metropolitan Museum of Art in Manhattan, 2015.
For this UK showcase, pianist Grace Yeo, 2009 winner of the Beethoven Society of Europe's Piano Competition will join Jung to perform pieces by some of our favourite European composers including Schubert, Beethoven and Strauss. At the end of the concert, special guest Eunsun Lee will perform a piece of Korean dance Jeju-Haenyeo, The Deep Sea Inside a Girl' inspired by the story of the Korean female divers, the Haenyeo.
ARTISTS:
Claudio Jung Baritone
Grace Yeo Piano
Eunsun Lee Dance
PROGRAMME:
Concert Etude 'Gnomenreigen' S.145 No.2 F. Liszt
Ich liebe dich L. Beethoven
Erlkönig F. Schubert
Ballade L.70 in F major C. Debussy
Allerseelen R. Strauss
Mattinata R. Leoncavallo
'Ondine' from Gaspard de la nuit M. Ravel
Park Yeon Waterfalls Korean folk song
Oh, Mountain Dongsu Shin
'Toccata' Op.155 Y. Bowen
Someone Cares J. Larsson
Jeju-Haenyeo, The Deep Sea Inside a Girl A. Aldo (With Dacer EunSun-Lee)
BIO:
Claudio Jung / Baritone
Claudio Jung, often referred to as 'The maverick of the classic circle', performed 'Shadows of Don Giovanni' in January 2016 at the Metropolitan Museum of Art, Manhattan, offering a refreshing stimulus to the piece.
To date Jung has released 15 albums and performed and directed over 3,000 concerts in 60 cities across the world. Career highlights include solo performances at major national events in Korea including the 60th Memorial Day Ceremony, the 70th National Liberation Day Ceremony, and the 97th Independence Movement Day event.
He is currently a professor at Kookmin University College of Art in Korea, and he is also a public ambassador for the Salvation Army and the chief of OPERAMA (Opera and Drama – Art Administration Institute).
Grace Yeo / Piano
Born in Seoul, Korea, Grace Yeo was awarded the Barbara Stringer Scholarship for postgraduate studies in London at the Guildhall School of Music and Drama where she entered the class of Prof. Ronan O'Hora and Prof. Joan Havill.
She has been a major prize-winner in many competitions including the First Prize in the C. Bechstein-Samick Piano Competition, the First Prize and Audience Prize in the Beethoven Society of Europe's Piano Competition, the Norah Sande Award Competition, and the Beethoven Prize at the Arcangelo Speranza Competition in Italy, the Hastings International Piano Concerto Competition and recently the Brant International Piano Competition.
Since becoming the Winner of Beethoven Society of Europe's Piano Competition in 2009, Grace Yeo has continued to build an international career as one of the outstanding pianists of her generation.
Eunsun Lee / Dance
Lee Eun-sun, a dance educator and dancer, is currently a visiting professor at the Kyung Hee University Dance School. She currently serves as Chairman of Ballenova, Director of Korea International Dance Ecology Exchange Association, Director of Korean Dance Arts Society, Dance Project of Korea and Japan, Director of Di O Ne, and Choreographer of Opera Dance.
Representative choreography includes "No one," "Respond in 1996," "Rest," "LE, EL," and "Girl of the Sea."