Kitsch Kōgei Private View for Japan Society Members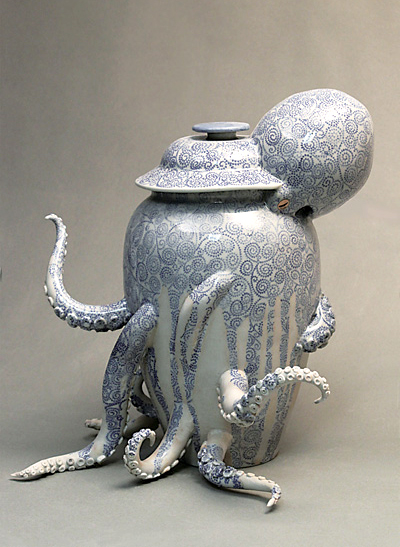 Date: Thursday 22 March 2012, 6.30 pm for 7.00 Curator Talk
Venue: ICN Gallery, 96-98 Leonard Street, London EC2A 4RH
Fee: Free – booking essential
Booking Deadline: Tuesday 20 March
ICN Gallery welcomes Japan Society members to a special private view and curator talk for the exhibition Keiko Masumoto 'Kitsch Kōgei'.
For a long time in Japanese applied arts, the definitions of 'art' and 'craft' have been kept separate. However there are some artists like Keiko Masumoto who break the mould . Using high ceramic craftsmanship, her works include everyday Japanese items such as decorative plates, vases and tea ceremony instruments. But she breaks the relationship between utilitarian and decorative objects by combining these items and traditional motifs with dynamic shapes, creating a humorous take on Japanese traditions and culture. A new generation artist seeking to escape outdated conventions, Masumoto erases the lines between craft and art by showcasing the beauty of useful things.
ICN Gallery is a contemporary art gallery that actively seeks to showcase upcoming and young contemporary artists from Japan and other Asian countries. ICN Gallery Director/Curator Hisami Omori neither seeks to imitate the West nor calls for a return to pure tradition. The artists selected for exhibition present messages on today's dynamically changing world of Asia. Producing works of pure creativity, they expand beyond established boundaries, incorporating the ideas of art, culture and philosophy with originality and skill.
Besides organising exhibitions, ICN also hosts events, seminars and workshops offering the public a chance to have a more personal engagement with creative work. Based in Japan and the UK, specifically London, ICN not only discovers new talent, but lends support to local artists; extending an ever-growing network for creative distribution.
To reserve your place, please call the Japan Society office on 020 7828 6330 or email events@japansociety.org.uk