Kobe Metal Outfit BRAIN DEATH ZOMBIE Make International Debut in London on 12 January 2013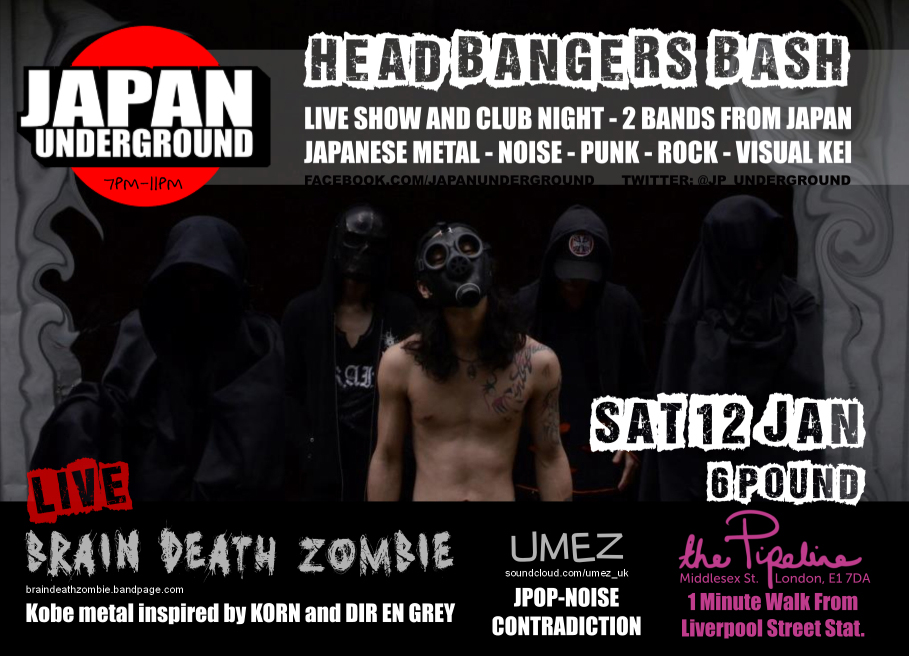 The UK's leading Japanese music promoter will break-in the New Year the only way they know how: with loud, heavy rock direct from Japan! On Saturday 12 January, Japan Underground will once again takeover London Liverpool Street's punk bar The Pipeline for a night of distorted debauchery direct from Japan.
Headlining the night is Kobe metal outfit BRAIN DEATH ZOMBIE, unleashing their aggressive and haunting sound for the first time outside of Japan. The quintet is heavily inspired by the likes of Korn, Slipknot and Japan's own Dir en Grey. Their first EP is available to stream for free from their homepage. Be warned, with their mixture of thunderous guitars, spine snapping samples and haunting vocals, this is one group not for the faint-hearted.
Support for the evening comes from London-based Japanese noise-duo Umez. The pair clash two contrasting genres together to create a unique sound, combining elements of J-pop and avant-garde noise. The unit is formed by members from the Japanese all-girl group No Cars, and indie rockers Screaming Tea Party.
PLUS! Japan Underground's resident DJ, music journalist and JPU Records' owner Tom Smith, will supply track-after-track from Japan's hardcore, metal, punk and heavy rock scenes. If it doesn't make you want to wave your fists in the air and rock your head, it's not getting played. Come along, rock out, and discover a whole new world of Japanese music.
http://braindeathzombie.bandpage.com/
https://soundcloud.com/umez_uk
http://japanunderground.wordpress.com/
https://www.facebook.com/JapanUndergroundClub