"Korean food (Hansik), by speeding up globalization we should not allow it to become fast food"
Director, Sook Ja Yoon, of the Institute of Traditional Korean food – Pinar Okçal, Wife of the Turkey ambassador to Korea 'Food Conversation'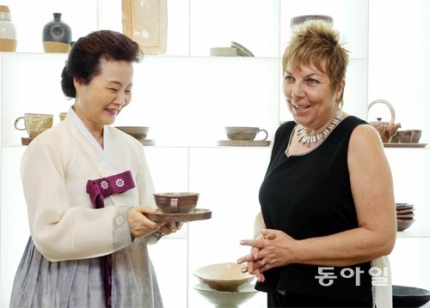 Sook Ja Yoon (left), director, Institute of Traditional Koran Food and Pinar Okçal, wife of the Turkey ambassador conversation about food culture between the two countries ahead of the Korea – Turkey Food Cultural Interchange on the 2nd to 5th of next month.
"If there is 'Mandu' (Korean dumpling) in Korea, then there is 'Manti' in Turkey, which is similar to Mandu not only for its name, but also for its shape. And if Korea has a charcoal grill, then there is Kebab at Turkey. Korean foods such as Kimchi and Doenjang (Bean Paste) are fermented foods that Koreans enjoy, then there are yogurt and cheese which Turkish people enjoy"
Sook Ja Yoon, Director of Institute of Traditional Korean Food (68, female) explained that Korean Cuisine and Turkish Cuisine have so much in common. Dr. Yoon spoke with Pinar Okçal, about the food culture between the two countries last May 23 ahead of the Korea-Turkey Food Cultural Interchange on June 2nd- 5th, 2016.
Dr. Yoon had tried Mackerel Kebab, where laid grilled Mackerel are upon another, and Mackerel sandwich in Turkey 3 years ago. And in an instant, she thought the food was identical to Bulgogi (Korean barbeque). Mrs. Okçal added "We have a little bit more in common which is, people like drinking."
Mrs. Okçal highlighted that food is crucial for any cultural interchange. There is a saying that "A way to a Man's heart is through his stomach." but, who is not interested in food? This includes all of us." Dr. Yoon agreed, stating "Although it is harsh to captivate different food culture as everyone is familiar to their own food, it is able to build a mature partnership by fully understanding each other's food culture."
Mrs. Okçal gave advice on Korean food globalization with the example of 'Kebab', "They emphasized the advantage that Kebab will be cooked quickly; since Kebab became known all over the world and it has accepted as 'fast food'. It seems in place to balance traditions for Korean food, unlike 'Kebab'." Dr. Yoon also said that "It is important to focus, not only on a single item such as 'Bulgogi' and 'Bibimbap', but also the combination of different areas of culture like Korean Wave like K-pop and Korean Drama in order to spread Korean food extensively"
Turkey is our close ally that have dispatched troops during the Korean War, the negotiations between the two countries resulted in the Cultural Exchange Agreement in 1972 and Tourism Agreement in 2006. Also, the two teams supported each other during the World Cup 2002 third-place final. The Korea-Turkey Free Trade Agreement (FTA) has officially become effective since 2013. Next year we will celebrate the 70th anniversary of the establishment of Diplomatic relations between Korean and Turkey as well.
Korea-Turkey Food Cultural Interchange will be held on June 2nd to 5th, 2016 at 4th Floor/Seoul Korean Food Cultural Center, Korean Tourism Organization, Cheonggyecheonno, Jung-gu, Seoul, South Korea. It is the place where the Korean and Turkish food are set to be cooked and experienced by approximately 100 ambassadors from other countries, with Korean food industry employees as well as media members attending too.
Article courtesy of Dong-A Daily News
Edited by Yeyeong Cho and Saab Choi