KURICORDER QUARTET WITH GUEST DJS IAIN LEE (ABSOLUTE RADIO) AND PAUL FISHER (RESONANCE 104.4FM)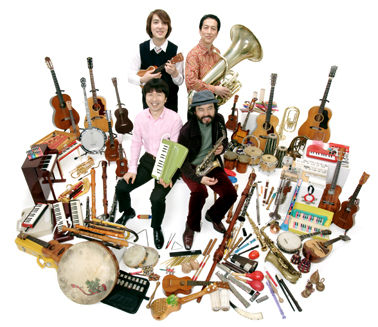 Date: Friday 20th May 2011 (8pm)
Venue: Cafe OTO, 18-22 Ashwin St, Dalston, London E8 3DL
Tickets: £10 advance / £12 on the door
Web: http://www.cafeoto.co.uk
Email: info@cafeoto.co.uk
Join us for a very special evening to celebrate the 20 year anniversary of Far Eastern music pioneers Far Side Music, with an evening of Japanese musical heaven. Guests direct from Japan are the wonderful Kuricorder Quartet, plus DJs spinning an eclectic selection of Japanese tunes, Iain Lee and Paul Fisher.
Kuricorder Quartet is a quite brilliant, rather eccentric multi-instrumental group from Japan. Never in the history of music has the humble recorder, (kuri by the way is the Japanese for 'chestnut', the corder bit comes from recorder) sounded this fresh and exciting. And never would you have thought the recorder, from the small soprano, to the giant great bass, via soprano and alto, this capable of playing the most innovative of music.
Kuricorder are not just about recorders though. Each member is a virtuoso on at least one other instrument, and together they create a rich, warm, polyphonic tapestry of sounds. Delightfully unclassifiable, encompassing jazz, folk, blues, classical, medieval, funk among others, their choice of material ranges from a variety of styles on original tunes to Imperial March from Star Wars, Michael Jackson's Thriller, Queen's Bohemian Rhapsody to Japanese children's songs.
Originally formed in 1994, Kuricorder Quartet have gradually built an ever expanding fan base in Japan. They've released six albums to date, plus a couple of greatest hits, and a live DVD and CD. They have become known to a wider public through writing and performing film soundtracks (Near Equal Yayoi Kusama, Quill, Yamagata Scream) TV drama themes, (Pythagora-Switch) TV commercials and collaborating with pop artists such as UA, Chemistry and Morio Agata. Their 2006 album 'Ukulele Kuricorder' made it into the mainstream pop charts.
Their roots, however, lie in the vibrant Tokyo underground scene and each member brings a wealth of experience and unique talent to the quartet. Saxophonist Yoshiyuki Kawaguchi, has played with a multitude of bands including Shibusashirazu, with whom he has toured the world, Cicala Mvta and many others. He plays an array of other instruments such as bodhran, harmonica and ukulele. Guitarist and ukulele player Kenji Kondo composed the music for the 2009 Oscar-winning short animation, 'La Maison en Petit Cubes.' Masaki Kurihara, is the leader of the group, playing melodica, ocarina among others and is a composer for various Anime films. Tuba player Takero Sekizima's career CV reads like a who's who of Japan's most pioneering artists of the last 20 years, as a member of the legendary avant garde jazz /chindon group Compostella, to Komacha Klezmer and participating in numerous projects such as the groundbreaking albums by Okinawan musician Tetsuhiro Daiku.
[pro-player width='530′ height='347′ type='video']http://www.youtube.com/watch?v=6-9v_uBDdz4&feature=player_embedded[/pro-player]
Unclassifiable maybe, but if Kuricorder Quartet make a particular brand of music, it might be called joyous. Totally unpretentious, laid back, brilliantly played, laced with a sense of humour and guaranteed to put a smile on your face.
Masaki KURIHARA – soprano recorder, melodica etc…
Yoshiyuki KAWAGUCHI – alto recorder, bodhran, saxophone, etc…
Kenji KONDO – tenor recorder, guitar, ukulele, etc…
Takero SEKIZIMA – great bass recorder, tuba, jews harp, etc…
Iain Lee – as well as being known as a comedian, for his nightly shows on Absolute Radio and regular TV appearances, Iain is also a Japanophile, in particular, the wackier side of Japanese music. Iain has long been a fan of Kuricorder Quartet, whose tunes are regularly featured on his Absolute Radio shows.
Paul Fisher – founder of Far Side Music, compiler of several compilations including Rough Guides to Japan, Okinawa, China, Indonesia, Bar Tokyo, Bar Beijing, Very Best of the Far East, Beginners Guide to Asia. Presented Far East Radio in Japan for several years, and Far Side Radio on Resonance 104.4fm in London since 2002. DJs at events worldwide.