Lecture by Lesley Downer – 19th Century Japan, Geisha, Samurai and Change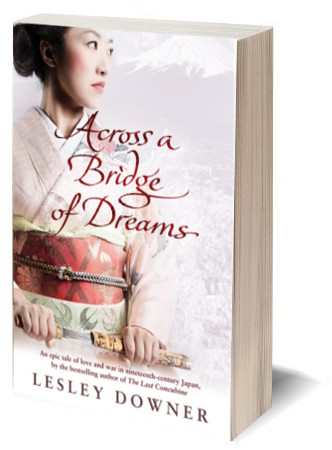 The Birmingham Japan Society – Eiwakai, is pleased to welcome author Lesley Downer to the Brasshouse Language Centre on 12th October 2012 between 7pm and 9pm. Lesley Downer will give a presentation on the subject of her latest novel, Across a Bridge of Dreams. Taken place in 19th century Japan, Lesley will speak to us about samurai and geisha of that fascinating period of historical change in Japan.
Lesley Downer's great passion is Japan. Her mother was Chinese and her father a professor of Chinese, so she grew up in a house full of books on Asia. But it was Japan, not China, that proved the more alluring. She has lived there on and off for a total of some fifteen years and written many books about the country and its culture. It has been an ongoing love affair.
Lesley Downer writes regular book reviews for the New York Times Book Review and the occasional feature article for the Sunday Times Magazine. She was a regular contributor to the arts and leisure page of the Wall Street Journal and the Wall Street Journal Europe, covering arts, leisure and fashion (including London Fashion Week – a wonderful commission!), from 1991 to 2001. She has written for a range of newspapers and magazines, including the New York Times, the Sunday Times, the Times, the Telegraph, the Observer, the Scotsman, Fortune Magazine, Prospect and also for Shukan Shincho and Newsweek Japan.
She has lectured to many institutions including the Japan Society, Asia House, the Royal Geographic Society and a lecture for Asia House at the British Museum. She has also lectured at the Japan Society in New York and Japan Societies and Asia Societies across both the US and the UK.
Please join us for an entertaining evening about samurai and geisha with Lesley Downer.
Tickets are £5, and there is limited space available.