Lee Jaehyo: Exhibition at ALBERMARLE Gallery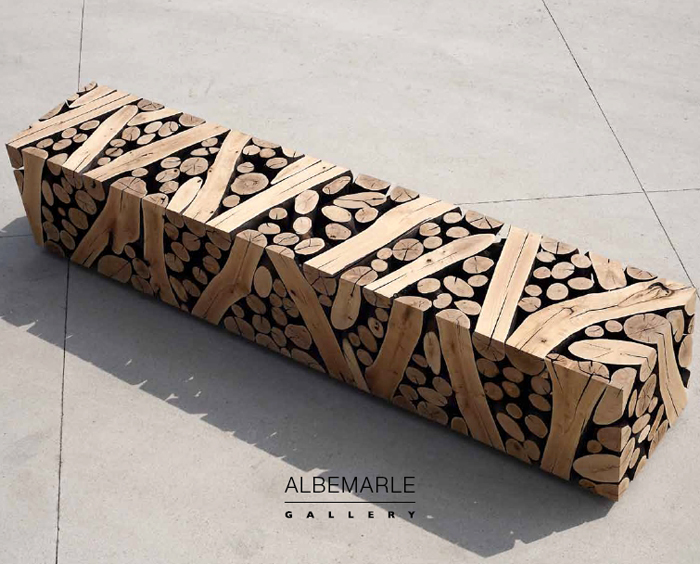 Date: 07 Oct – 29 Oct 2011
Venue: ALBERMARLE Gallery, 49 Albermarle Street, London W1S 4JR UK
Organiser: HADA Contemporary
Abstract art speaks a universal language. People react instinctively to paintings and sculptures when the imagery is not recognizable as a human figure or some other representation of reality. Wood and steel shaped into abstract forms are perceived as just that—wood and steel.
The success of non-representational sculpture is not measured by its ability to evoke an image of something else (like a painted portrait is), but rather by its emotional or intellectual impact on the viewer. Is it seen as beautiful, beguiling, or bold? Is it the materials themselves, or the way they have been handled, that prompts the response? Is it the sculpture's shape, surface, or color that most affects one's senses?
Sculptures by Jaehyo Lee tend to please and amuse viewers. In some of his art, the normally rough irregularities of wooden logs have been smoothed and polished to enhance the warm tones inside each stick. The smooth, blond wood grain contrasts with the sticks' blackened skin. Likewise, the crisp, orderly silhouettes of the sculptures' overall forms accentuate what appears to be a random pattern of individual wooden components.
Yin and yang. Nature and artifice. Differences complement one another. Design distinguishes the nature of materials with a nearly invisible hand. Think ikebana, the oriental art of flower arranging where beauty is found in the apparent naturalness of the arrangement. An Eastern aesthetic is definitely at work in the creation of Jaehyo Lee's sculpture, but it is also a decidedly modern aesthetic.
Truth to materials, and an absence of applied ornament dominate Lee's style—except when he totally reverses his course. Then, rather than carving clumps of sticks into seductively simple shapes, he pounds nails and bolts into wood, grinds the steel to highlight its linear character, and burns the wood to leave the glistening squiggly lines standing proud above the burned surface of the substrate.
As Lee related in 2007, "Until recently, my work has been about combining wood with nails or steel bars, integrating them into geometrical shapes such as a sphere, a hemisphere, or a cylinder. . . . I now put an emphasis only on nails. I drive countless nails into wood, bend them, grind them, and then burn the wood, making the nails protrude and at the same time blackening [the wood]. . . . Then glittering metallic nails on the blackened charcoal become ever more conspicuous."
Indeed, the "glittering metallic nails…become ever more conspicuous," but the underlying wooden forms
do not lose their import. In fact, the flat planes of Lee's relief, 0121-1110=105052, and his alphabet tower, 0121-1110=111093, are enhanced by the bright linear surface pattern of steel bolts.
This show gives viewers just a taste of Lee's artistry, a sample of his distinctive sculptural style. These few objects manifest his mastery of materials, his command of tools and equipment, his achievement of an aesthetic vision that captures our interest, piques our curiosity, and soothes our souls. We sense his artistic roots in the fertile soil of Earthworks, Land Art, Environmental Art, Eco-Art, Installations, and Minimalism, but his means do not encumber his ends. We marvel at his artistry, but the quiet elegance and simplicity of his art is what we see first, and what we remember.
Michael W. Panhorst, PhD.
Curator of Art, Montgomery Museum of Fine Arts, Montgomery, Alabama, U.S.A.