Life is Sweet – Japanese inspired desserts by Suzue Aoyama-Curley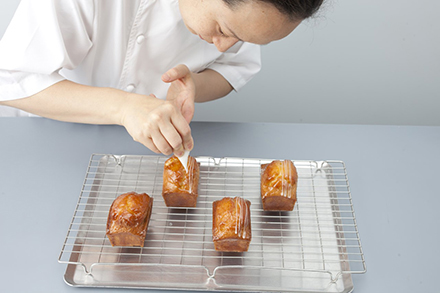 We are delighted to welcome pastry chef Suzue Aoyama-Curley for a very special demonstration and tasting of her wonderful desserts inspired by Japan.
Award-winning Suzue Aoyama-Curley has created afternoon teas at world-renowned London hotels, Claridges and The Savoy. During her time in the UK, she has seen Japanese ingredients such as sansho pepper and miso become more easily available and has watched as connoisseurs have begun to experiment with uses beyond Japanese cuisine. It was a natural step for her, therefore, to take her skills in creating traditional pastries for the archetypal 'English Afternoon Tea' and begin to look for ways to infuse them with the flavours of her home, Japan. This has opened up into a world of creative patisserie-making firmly rooted in the classics.
At this event, you will have the opportunity to taste a selection of luxurious sweets and baked goods reinvented with Japanese flavours and, at the same time, watch a professional at work. While demonstrating patisserie skills and techniques, Suzue will speak about her passion and answer questions. Learn about the art of combining flavours and pick up hints to inform your own baking. This event will doubtless appeal to the keen cooks among Japan Society members, but could also be a special Christmas or Valentine's gift. Please let us know if you would like a gift certificate for a loved one.
Date: Thursday 8 February 2018, 5:30 pm for 6.00pm
Venue: K2 Building (main entrance on Keyworth Street, SE1 6NG), The National Bakery School, London South Bank University, London, SE1 0AA