Little Sunshine, Little Rainfall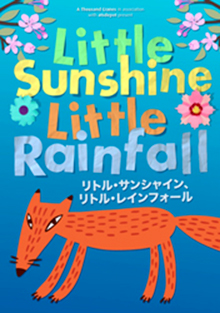 Catch Storm Fox in 2013 when he reappears in the magic garden near you.
Suitable for children aged 3-7 and their families.
Performed in English with a little Japanese.
Little Sunshine and Little Rainfall invite you to their magic garden. But trouble is afoot for the gardeners when naughty Storm Fox comes to visit. All the creatures in the garden must think quickly to save their homes and families. Perhaps wise old Turtle has the answer?
Blending Japanese folklore with traditional music and dance, and inspired by haiku and origami, this exciting and beautiful show is brought to you by the same creative team as the highly successful, *Paper Washi Wish*.
Date: 16 February – 4 August 2013
Venue: Various
Tel: 07801269772
Email: Kumiko@athousandcranes.org.uk
Web: http://www.athousandcranes.org.uk
Organiser: A Thousand Cranes