Live at Cafe OTO: LAPPETITES + KAFFE MATTHEWS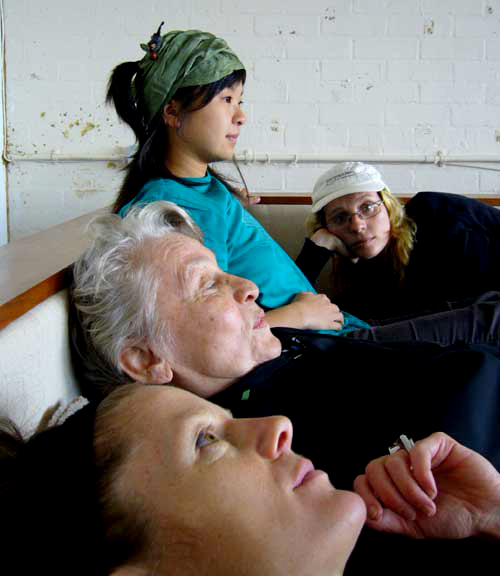 Date: Thursday 16 June 2011 (8.00pm)
Venue: Cafe OTO, 18-22 Ashwin St, Dalston, London E8 3DL
Email: info@cafeoto.co.uk
Web: www.cafeoto.co.uk
Tickets: £6 adv. / £7 on the door
A night of new music inspired by survival.
'Tokohu – wall, silence,' by the Lappetites.
'Where are the wild ones?' by Kaffe Matthews
'fold from 0' by Ryoko Akama
The Lappetites, is an international collective of artists who create their work through online communication and occasional one place collision somewhere else in the world. Founded by Kaffe Matthews in 2001, their current members are Ryoko Akama(Japan), Antye Greie aka AGF (Germany-Finland), Kaffe Matthews, Blanca Regina Perez-Bustamante (Spain) and Eliane Radigue (France)
For their café Oto debut, Akama and Matthews will present, 'Tokohu – wall, silence,' a specially made work, with contribution from AGF and Radigue, that plays on and questions catastrophe, the planet, information and survival through the daily experiences of the players since the 3.11 tsunami.
'Where are the wild ones?' performed in 4 channels by KM follows the dangerous route Atlantic Salmon take from Greenland up the river Tyne to their spawning ground in Kielder Water, Northumberland. All music made from recordings taken in the River Tyne, England Jan, Feb 2010. Where are the wild ones? was A RIVERS commission by AV Festival 10 and the Environment Agency, curated by Rebecca Shatwell, premiered on March 14th 2010 at The Sage, UK.