London Korean Film Festival: Neighbours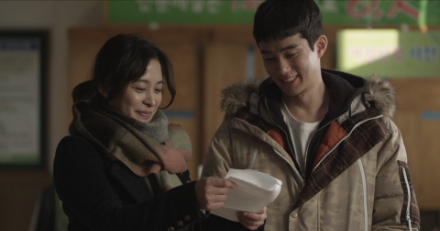 Winning at a huge list of film festivals including Cannes, Busan, Seoul GLBT and Asiana International Short Film Festival, Neighbours features Park Hee-von starring as Su-yeon a lowly community officer. Her office have created a creative writing contest called the "Neighbours Story"and with so many entries the job of reading through all submissions and choosing a winner has fallen onto Su-yeon. She has one night to get through all the entries so a local public servant,Tae-jun, who has a crush on Su-yeon, decides to stay behind and help. Thanks to an energy conservation campaign the two have to read the stories under lantern light and they discover all the stories about neglected neighbours they had no idea existed.
Neighbours is directed by three separate filmmakers in collaboration, all award winning short filmmakers. Kim Hee-jin whose admirers include Gyeongju director Zhang Lu has previously directed the short film A Brand New Journey which won top prizes at the Asiana Awards and Jeonju Film Festival and is currenting screenwriting for director Chung Ji-woo (Eungyo). Son Tae-gyum is famous for his series of short films based on a bestselling comic called Incomplete Life while Shin So-joeng, the youngest of the three, has won awards for best directed and best actress at the Sapporo International Short Film Festival.
Date: Monday 10th November 18:30
Venue: Odeon Covent Garden