London Premiere Japan 2011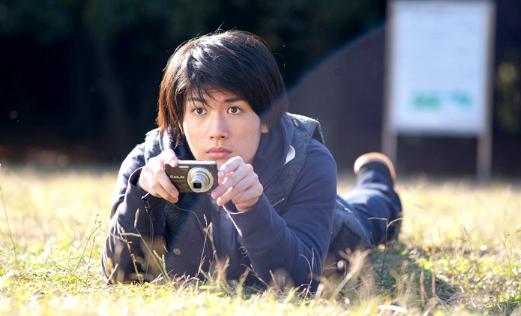 Date: 25 – 27 November 2011
Venue: Barbican Film, Barbican Centre, London UK
Now in its seventh year in London, Premiere Japan comes to the Barbican for the first time from 25 to 27 November, screening six of the best and most recent features and documentaries from Japan. Highlights include Locarno Film Festival winner, Tokyo Park featuring rising star Haruma Miura; the latest delight from Yazaki Hitoshi, Sweet Little Lies adapted from Ekuni Kaori's best selling novel, and Sketch of Mujo the first documentary to be made in the wake of the devastating earthquake and tsunami earlier this year. Each screening is preceded by a short film chosen from submissions made by students, both Japanese and non-Japanese, at the University of the Arts London.
Tokyo Park (U*) (Japan, 2011, Dir Aoyama Shinji, 119min) – Friday 25 November 7.30pm
Based on a novel by Shoji Yukiya, this depiction of isolation, jealousy and lust follows the fortunes of a college student, Koji, whose life is transformed when he is approached by a married man to spy on his wife. Played with wide-eyed enthusiasm by rising star Miura Haruma, Koji's journey is peppered with eccentric characters and the visual flair for which director Aoyama is renowned. Winner of the Golden Leopard at Locarno Film Festival.
Sketch of Mujo (U*) (Japan, 2011, Dir. Omiya Koichi, 75min) – Saturday 26 November 4pm
This documentary is the first to be filmed in the wake of the devastating earthquake and tsunami that struck the Tohoku region of Japan in March 2011. Award-winning director, Omiya Koichi skillfully weaves together images of the devastation with simply told accounts to create a raw sketch of a changed region, whilst also looking to the future and what reconstruction will mean.
Sweet Little Lies (12A*)
(Japan, 2010, Dir. Yazaki Hitoshi, 117min) – Saturday 26 November 6pm
By turns melancholy, funny and disturbing, Yazaki Hitoshi's Sweet Little Lies is a meticulous dissection of a marriage that unfolds with the same exquisitely controlled elegance that characterises its heroine, Ruriko (a mesmerising Nakatani Miki)… Navigating small rituals and large infidelities with equal grace, Nakatani infuses every gesture with calm, unknowable beauty (Variety). Sweet Little Lies is Yazaki Hitoshi's follow up to Strawberry Shortcakes (2006), and is adapted from Ekuni Kaori's best-selling novel about the myriad threads of desire.
My Back Page (PG*) (Japan, 2011, Dir. Yamashita Nobuhiro, 141min) – Saturday 26 November 8.30pm
A young journalist in 1969 falls under the spell of a charismatic student activist (played by Matsuyama Kenichi), only to realise that he's capable of murder. Director Yamashita Nobuhiro and his cast recreate the political turmoil of the period with remarkable credibility.
Legend of the Millennium Dragon (12A*) (Japan, 2011, Dir. Kawasaki Hirotsugu, 98min) – Sunday 27 November 4pm
A shy, fifteen-year old boy must discover his hidden powers and travel back in time 1200 years to save mankind from an ancient evil that threatens life as we know it. Packed full of demons, dragons and heart-stopping action, this spectacular journey is a beautifully crafted anime from director Kawasaki Hirotsugu (Spriggan)
A Man With Style (U*) (Japan, 2011, Dir. Ishii Yuya, 110min) – Sunday 27 November 6.15pm
After an unhappy childhood of being regularly bullied to tears, Miyata Junichi vows to himself that he'll be a cool adult in strict control of his emotions. Decades later he's so successful that he can't communicate with his teenage children, despite various family sorrows. Enter old friend Sanada, who teaches Miyata that it's OK to lose control, in many different ways. Mitsuishi Ken and Taguchi Tomorowo star in this poignant family drama.
*Premiere Japan 2011 is presented by the Embassy of Japan, with kind support from the Daiwa Anglo-Japanese Foundation, GB Sasakawa Foundation and the University of the Arts London.