Lost and Found, Hanmi Gallery 11th Interim Exhibition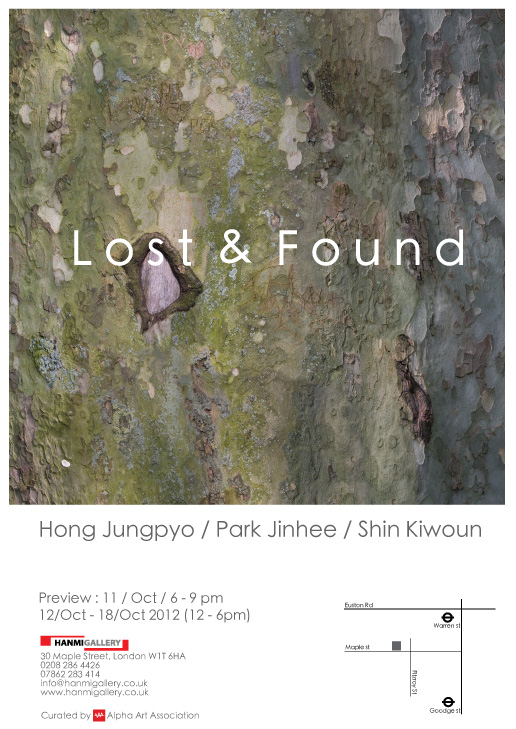 HANMI GALLERY 11TH INTERIM EXHIBITION
Lost & Found
An Exhibition of Contemporary Korean Art works
by Hong Jung Pyo, Park Jinhee, and Shin Kiwoun
Preview: Thursday, 11 October 2012, 6 – 9pm
Date: 12 October – 18 October 2012, 12 – 6pm
Venue: Hanmi Gallery, 30 Maple Street, London, W1T 6HA
HANMI GALLERY is pleased to announce its 11th interim exhibition, Lost & Found, commissioned by three young emerging Korean artists. For the project, these up and coming artists will deliver their diverse artistic concepts to meet the mission that the gallery pursues.
Currently working towards its grand re-opening in summer 2013, the gallery focuses on introducing Korean and international artists by supportively committing to present their artworks. With operations in both London and Seoul, Hanmi Gallery aims to direct the vibrant contemporary art scene to international audiences.
The participating artists Hong Jung Pyo, Park Jinhee, and Shin Kiwoun will devote an artistic contribution to the allocated gallery. The individual work of each artist will separately occupy each one of the building's three floors to deliver three diverse experiences at three different levels representing three unique identities.
Hong Jung Pyo's sculptures explore the dichotomy between artworks and articles in daily use. For this show, he creates three different formations such as fire extinguisher, chair, and jug. Moreover, his concern for 'palaver' effects on the artwork titled 'There is no reason', which is self-reflection for contemporary art on the assumption that we meet the end of an era. He considers the meaning and the function of Art in our life. He received his BFA and MFA in Sculpture from Hongik University. He was awarded the grand prize at Joongang art prize in South Korea. Hong had Artist-in-residency programme of Sam Sung Foundation's Cité international des Arts in Paris, 2010-2011.
Park Jinhee's photography reflects the 'trace of time' through the portraits of the trees created with the combination of bark images, taken by zooming in on a certain area, and edited a single tree surface from all directions that seems to be alike but are all dissimilar. Like the new vision of the cubists, this manner is used to condense the entire curved surface of a tree on a flat frame at first glance but it delivers several layers to the audience. He obtained his MFA in Fine Art at Goldsmiths College, London 2010 and completed BFA, MFA in Sculpture at Seoul National University of Arts, Seoul, South Korea. Recently, he had exhibitions internationally in London, Taiwan, Hungary, and Norway and was awarded Bergen Atelierguppe art Camp in Bergen, Norway.
Shin Kiwoun's video installation makes inquiries about 'reality' by projecting virtual image side by side surrounding our environment. In this show, he chooses the stairs of Hanmi Gallery and disposes another stair image like his 'Reaity Test_Doors'. It can give an extraordinary experience to visitors who do not expect another space in the Gallery. He has a MFA in Fine Art at Goldsmiths College, London 2010 and received BFA, MFA in Sculpture at Seoul National University of Arts, Seoul, South Korea. He was awarded New Contemporaries 2010 and has featured his video art including Esplanade in Singapore, ZKM in Germany, and Liverpool Biennale, UK.
Curated by Alpha Art Association:
Alpha Art Association is a project-based group which consists of art enthusiasts. Our aim is to share innovative ideas and to organize and present a series of artistic events in collaboration with creative people so that we could provide a bridge between people, culture and knowledge.
For further information: www.10aaa.co.uk, admin@10aaa.co.uk | Facebook: Alpha Art Association
Hanmi Gallery
30 Maple Street | London | W1T 6HA | www.hanmigallery.co.uk | info@hanmigallery.co.uk | 07862 283 414