Lt. Nobu Shirase and the 1910 Japanese Antarctic Expedition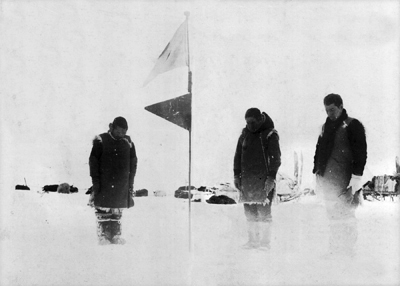 This year marks the 100th anniversaries of not two, but three South Polar expeditions: Amundesen's triumph, Scott's tragedy, and the hitherto almost unknown story of Lt. Nobu Shirase's Japanese Antarctic Expedition. When the expedition sailed from Tokyo Bay in November 1910 it was given a huge send off by a crowd of 50,000 supporters. Lt. Shirase's ambition to be a polar explorer had caught the imagination of a population frustrated at not being regarded as equals by the West, and determined to show that Japan was ready to take its place on the stage of world affairs.
Their vessel, Kainan-maru, was smaller than any other expedition ship of the time and in March 1911 their first attempt to land in Antarctica failed. They only escaped being trapped in the ice by the remarkable seamanship of Capt. Naokichi Nomura. After waiting out the winter in Sydney Harbour, their second voyage was crowned with success and included an Antarctic meeting with Amundesen's Fram. They set a number of Antarctic records and made the first landing in King Edward VII Land, where Scott and Shackleton had failed.
Hilary Shibata is the Antarctic Bibliographer in the Library of the Scott Polar Research Institute. She lived in Japan for eleven years before returning to England in 1988. Since 1994 she and her daughter, Lara Dagnell, have been working to translate the official account of the 1910-12 Japanese Antarctic Expedition. The book was published by the Erskine Press in December 2011 as The Japanese South Polar Expedition 1910-12: A Record of Antarctica.
Date: Monday 16 April 2012 (6:45pm)
Venue: The Oriental Club, Stratford House, 11 Stratford Place, London W1C 1ES
Fee: Free – booking recommended
A pay bar is available before the lecture.
Please note: Oriental Club rules require gentlemen to wear jacket and tie.