Creating New from Old: Reviving the Design and Techniques used in the Maki-e Laquer at Kodai-ji Temple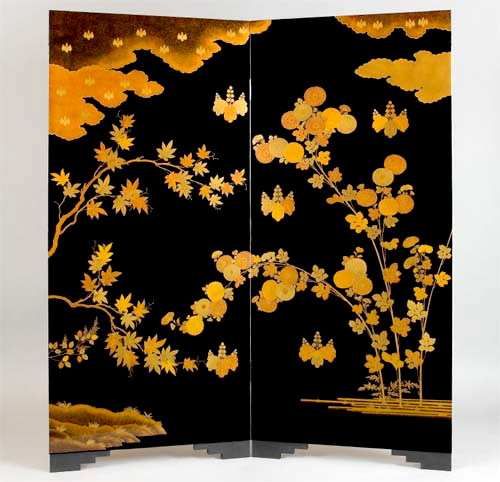 Date: 29 November 2011 from 6.30pm
Venue: The Japan Foundation, Russell Square House, 10-12 Russell Square,London, WC1B 5EH
The Maki-e Lacquer from Kodai-ji Temple in Kyoto has been regarded as one of the most superior parts of Japan's cultural heritage, certainly the best of its kind. Dating back 400 years, the Kodai-ji Maki-e lacquer caught the gaze of many a missionary who visited Japan in the 16th century, for both its intricate design as well as its marvellous technique, and helped lacquerware to become synonymous with Japan. Over the past years, an extensive research project on the Kodai-ji Maki-e lacquer has been conducted by NPO for Preservation of Kodaiji-Makie Heritage, and as result of this, the design and techniques used 400 years ago have been revived on a new screen, in the 21st century.
For this event, in celebration of the display of the lacquer screen at the Victoria and Albert Museum for the first time in the UK, Prof. Yutaro Shimode who led the project, a professional lacquer master himself, will talk about the process of reviving the first class Kodai-ji Maki-e lacquer and how vital it is to preserve the knowledge and techniques of the past by mapping Japanese lacquer in an historical context.
Joining Prof. Shimode in the lecture will be two distinguished scholars Prof. Hiroyuki Hamada and Associate Prof. Hidekazu Yasunaga, from the Kyoto Institute of Technology, who have been devoted to researching various traditional techniques, including lacquer. The three of them, each with their own expert perspective, will explore how the beauty of design, and the ethos and techniques of craftsmanship that existed in 16th century Japan can still be continued today. This event will be introduced by Rupert Faulkner, Senior Curator in the East Asian Section of the Asian Department at the Victoria and Albert Museum.