Mariko Mori: breakfast and private view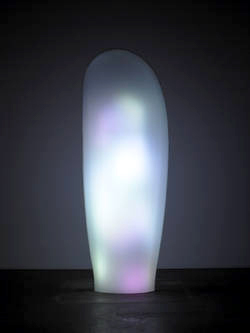 This special breakfast event for Japan Society members will take place at the Royal Academy of Arts on Tuesday 18 December. Guests will have the opportunity to view the RA's autumn exhibition, Rebirth by Mariko Mori, outside normal opening hours and enjoy a continental breakfast, courtesy of Japan Tobacco International.
This will be the first major exhibition of Mariko Mori's work to be held in London in 15 years. It will focus on recent and new works that engage with spiritualism and the natural world, combining traditional beliefs and contemporary technology to reflect on mankind's relationship to the natural environment. Visitors will encounter a variety of material, ranging from sculpture to sound works, and large-scale immersive environments.
A video and photographic artist of extraordinary international repute, Mariko Mori's works often juxtapose Eastern philosophy with Western culture; pop culture with traditional Japanese identity. Through computer-generated photographs and large scale multi-media installations, she has produced renowned art pieces, featured in the most prestigious collections and exhibited across the globe. Developed in close collaboration with the artist, the exhibition's title Rebirth is timed to coincide with the winter solstice in 2012. According to different ancient calendars, the solstice will this year either mark the end of the world or the birth of a new era.
Date: Tuesday 18 December 2012 (8.00 – 10.00am)
Venue: The Royal Academy of Arts, 6 Burlington Gardens, Piccadilly , London W1S 3ET
Fee: Free for Japan Society members and their guests, Booking essential (places are limited)