'Maritime Piracy' Richard Neylon, Holman Fenwick Willan LLP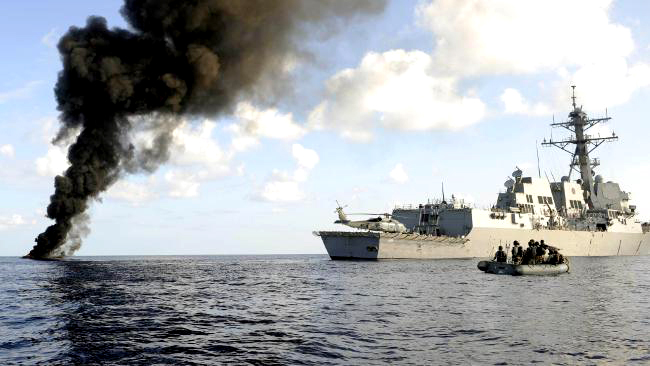 Date: Wednesday, 20th July 2011 12.00pm
Venue: JETRO, MidCity Place, 71 High Holborn, London WC1V 6AL
Fee: £12 for members of JS/JCCI/BJLA and those introduced by JETRO, £18 for non members (please send payment with booking)
Deadline for booking: Friday, 15th July 2011
12.00pm – sandwich lunch
12.30pm – lecture
2.00pm – end
Piracy, once nearly stamped out, is on the increase and has become a major global problem. There are now areas of the High Seas which have become virtually too hazardous to navigate, particularly off the Horn of Africa. Other areas such as the Malacca Straits, the South China Sea and the Niger Delta have also been plagued by this growing problem. As a result, ship-owners have had vessels and crew hijacked. London, as a still-important shipping centre and as the major insurance market of the world, has played a crucial role in many of the incidents.
According to the ICC International Maritime Bureau (IMB) There were 173 attacks worldwide and 23 hijackings in the first four months of 2011. 20 of the hijackings were linked to Somalia alone.
In this lecture, Richard Neylon, Partner at international law firm Holman Fenwick Willan, will focus on Somali Piracy. He will discuss its causes, its impact on shipping and trade, the preventative measures which ships can take to reduce the chances of being hijacked and how a ship-owner can respond when his ship is hijacked. This will be of interest to any member involved in international trade and insurance.
Richard Neylon works in the Admiralty department of Holman Fenwick Willan where he acts for a range of shipowners, charterers, P&I Clubs, marine underwriters and salvors in wet and dry shipping and marine insurance disputes. He has specific expertise in piracy and has acted for shipowners and underwriters in helping to resolve over 70 Somali hijacking cases during the last two and a half years. Through this work he has developed a network of contacts in government, the military, private military, financial institutions and intelligence agencies.
This event is organized in association with the British Japan Law Association
We are grateful to JETRO for kindly hosting this event. Members of the JCCI are welcome to attend this event at Japan Society member rates.
Please use the booking form below to reserve your place, or contact the Japan Society office on tel: 020 7828 6330 or email: events@japansociety.org.uk.