Maritime Strategy and National Security in Japan and Britain: From the First Alliance to Post-9/11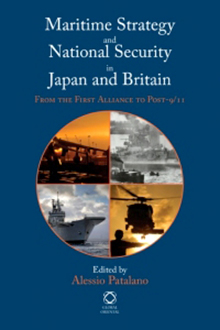 Sharing a similar geography at the opposite ends of the Eurasian Continent, and dependent on maritime trade to supplement the lack of strategic resources, both the UK and Japan relied on the sea for their economic survival and independence as sovereign states. From the first alliance in 1902, through the World Wars, to the more recent operations in the Indian Ocean and Iraq, sea power has played a central role in the strategic calculus of both countries. This thought-provoking book, comprising contributions from a group of international scholars, explores the strategic meaning of being an island nation. It investigates how, across more than a century, sea power empowered – and continues to empower – both the UK and Japan with a defensive shield, an instrument of deterrence, and an enabling tool in expeditionary missions to implement courses of action to preserve national economic and security interests worldwide. At a time when Anglo-Japanese security relations are back on the agenda of the two governments, this book represents a timely work exploring the reasons for enhanced cooperation. * The book will be available on the day at the special price of 35 euro (50% off the cover price). The exchange rate on the day of the launch will be used. Sterling and credit cards will be accepted.
Dr Alessio Patalano is Lecturer in War Studies at the Department of War Studies, King's College London, and specialises in Japanese naval history and strategy and contemporary maritime issues in East Asia. He is the Director of the Asian Security & Warfare Research Group and Research Associate at the King's China Institute. In Japan, Dr Patalano has been a Visiting Scholar at Aoyama Gakuin University and at the National Graduate Institute for Policy Studies (GRIPS), both in Tokyo, and currently is Adjunct Fellow at the Institute of Contemporary Asian Studies, Temple University Japan.
Dr Philip Towle (Chair) was Deputy Director of the Centre of International Studies in Cambridge from 1982 to 1993 and Director from 1993 to 1998. He retired in September 2012 and is now Visiting Professor at the University of Buckingham. Dr Towle joined Cambridge in 1980 following a period as a Senior Research Fellow at the Australian National University. His research interests are in East Asian security and the causes and the consequences of warfare. His most recent books have been: Going to War: British Debates from Wilberforce to Blair (Palgrave), From Ally to Enemy: Anglo- Japanese Military Relations, 1900-45 (Global Oriental),
Date: 3 October 2012, 6:00pm
Venue: Daiwa Foundation Japan House, 13/14 Cornwall Terrace, Outer Circle, London NW1 4QP
Tel: 020 7486 4348
Email: office@dajf.org.uk
Web: http://www.dajf.org.uk/event/maritime-strategy-and-national-security-in-japan-and-britain-from-the-first-alliance-to-post-911
Organiser: The Daiwa Anglo-Japanese Foundation