Masakatsu Kondo: Whenever I am Silent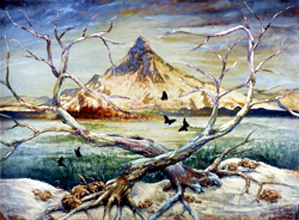 All Visual Arts are proud to introduce an exhibition of paintings by acclaimed Japanese artist, Masakatsu Kondo. Whenever I am Silent is a meditation on the artifice of nature, exploring the space between the perceived and the real. From still, unsettling landscapes inspired by traditional Japanese composition to the more lyrical new works being exhibited for the first time.
Kondo's paintings draw on the natural world and symbolic imagery of contemporary media; landscapes that adhere to the imagined, idealised notion of how they should appear. The artist opens up an inquisition of the world presented to us, particularly within an urban metropolis where 'natural' landscapes are architectures of the imagination. Kondo constructs subtly enhanced and engineered scenery suggestive of a peculiarly modern sense of isolation.
Kondo's landscapes draw their inspiration not from life but from reference books, taking their cue from geographically accurate and scientifically impartial material found in topography, geology and gardening manuals. As such, the natural world that he constructs is an abstraction of reality, a composition of impossible landscapes; the sky a brilliant blue, the mountains tall and lakes deep, yet lacerated from reality the images seem unsettling in their perfection.
Drawing reference from such disparate sources as European Romanticism; the intricacy of traditional Japanese artists such as Hokusai, and contemporary film and advertising, Kondo's work reminds us of the enduring struggle to establish an equilibrium between man and nature.
Masakatsu Kondo was born in Nagoya, Japan in 1962. Since graduating from the Slade School of Fine Art in 1993 he has continued to live and work in London. He has exhibited internationally, both solo and as part of group shows, competing in the John Moores Exhibition at the Walker Art Gallery, Liverpool (1997 and 1999) and the Granada Foundation Prize at the Whiteworth Art Gallery, Manchester (1993). Selected solo exhibitions include; Botany (2003) and Bridge (2007) at David Risley Gallery, London, Masakatsu Kondo at Mid Pennine Gallery, Burley (2002).
All Visual Arts is a hybrid arts enterprise founded by art expert Joe La Placa and Mike Platt in 2008. AVA's goal is to build a major collection of contemporary art by representing and commissioning new work by today's most exciting international developing artists.
Date: 4 – 31 May 2012
Venue: All Visual Arts, 2 Omega Place, London N1 9DR
Tel: 0207 843 0410
Fax: 0207 843 0415
Email: info@allvisualarts.org
Web: http://www.allvisualarts.org
Organiser: All Visual Arts