Masayuki Kino and Mami Shikimori at the Wigmore Hall, violin and piano recital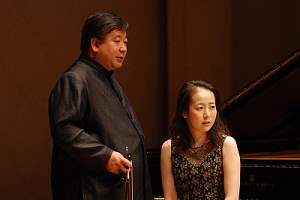 Masayuki Kino has appeared as soloist with many of the world's top orchestras as well as on both television and radio in Europe and in Japan. He is currently soloist/concertmaster for the Japan Philharmonic Orchestra.
Together with Mami Shikimori, they have given many concerts often presenting lesser known works by composers such as Respighi, Szymanowski, Koichi Kishi and Ginastera.
Nippon Acoustic Records (NAR) have recently released their CD of works by Khachaturian entitledSonata – Monologue to critical acclaim.
'[Masayuki Kino and Mami Shikimori] shed a new light on the world of Khachturian' MDE Bravo Music Magazine (Japan)
Entrance cost: £20, £17, £14, £10
Date: 25 June 2013
Venue: Wigmore Hall, 36 Wigmore Street, London W1U 2BP
Wigmore Hall box office:020 7935 2141
Web: http://www.wigmore-hall.org.uk/whats-on/productions/masayuki-kino-violin-mami-shikimori-piano-32593
Organiser: Lisa Peacock Concert Management Limited