Natural Flux Bonsai Exhibition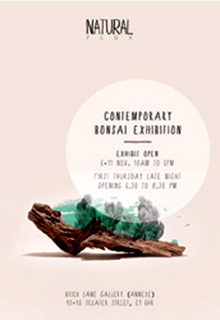 A novel and contemporary Bonsai exhibition held in an Art Gallery in East London. The exhibition will be a continuation of an idea which dates back over 150 years in Japanese bonsai, asking artists and craftsmen, particularly talented ceramicists, to make something which can be used in the medium of bonsai to create something beautiful.
Natural Flux will combine bonsai artistry with ceramics, metalwork, photography, and sculpture to create a unique and never before seen exhibition which is intended to introduce bonsai to a wider audience.
10 artists, several who trained in Japan are collaborating on this multinational and exciting exploration of a traditional Japanese art form.
Date: 6 – 11 November 2013
Venue: Brick Lanne Gallery (Annexe), 93-95 Sclater St, London ,E1 6HR
Email: info@naturalflux.co.uk
Web: http://www.naturalflux.co.uk
Organiser: Natural Flux