NGS Gardens open for charity, Garden Open, Zen garden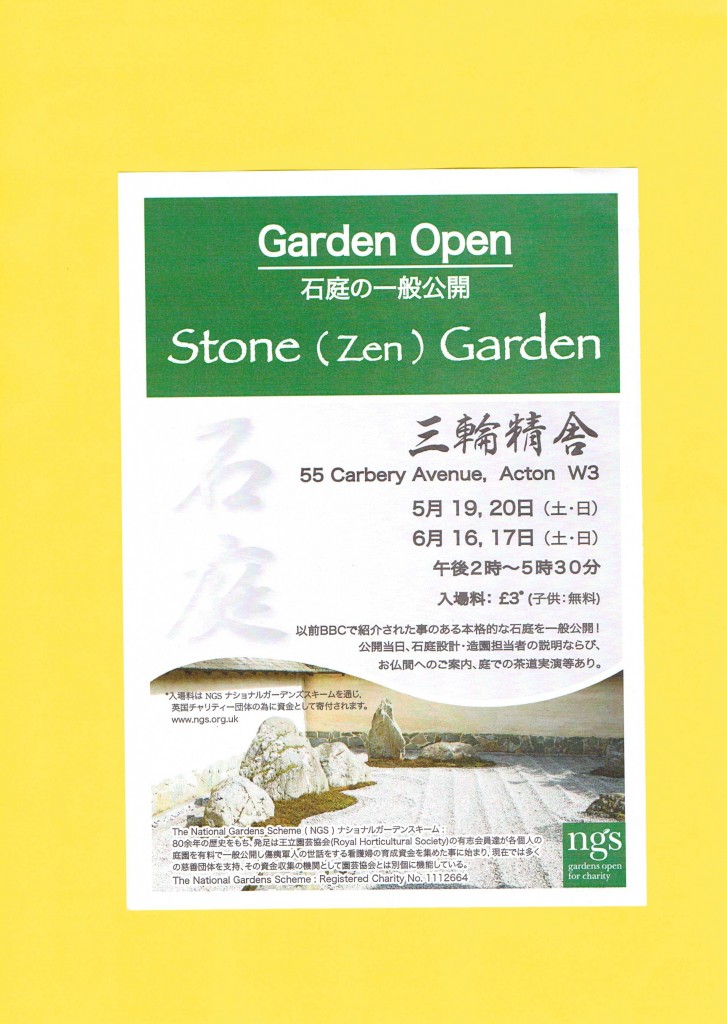 Garden open days 2012
As part of the National Garden Scheme (NGS), we are happy to announce that Three Wheels will be opening its Zen garden to the general public on two weekends this year.
The open days are scheduled for the weekend of the 19th and 20th of May, and the weekend of the 16th and 17th of june. On each day the garden will be open to visitors from 2:00 to 5:30 pm. Prof. John White, the designer of the garden, is again able to give talks on the making and design of the Zen garden. We are also delighted to be able to serve Japanese green Macha tea and sweets by tea masters in full traditional Kimono garments, followed by tea ceremonies held at regular intervals during the event.
This event is open to everyone, families, friends, groups and individuals, you are all welcome.
Adm:£3
Children: free
The address for the event is: 55 Carbery Avenue, Acton, W3
For further details, information on this and up coming events please contact Three Wheels at:
threewheelstemple@gmail.com, threewheels@threewheels.co.uk.
Website: www.threewheels.co.uk
We are also on Facebook.
thank you.