NHK Symphony Orchestra & Paavo Järvi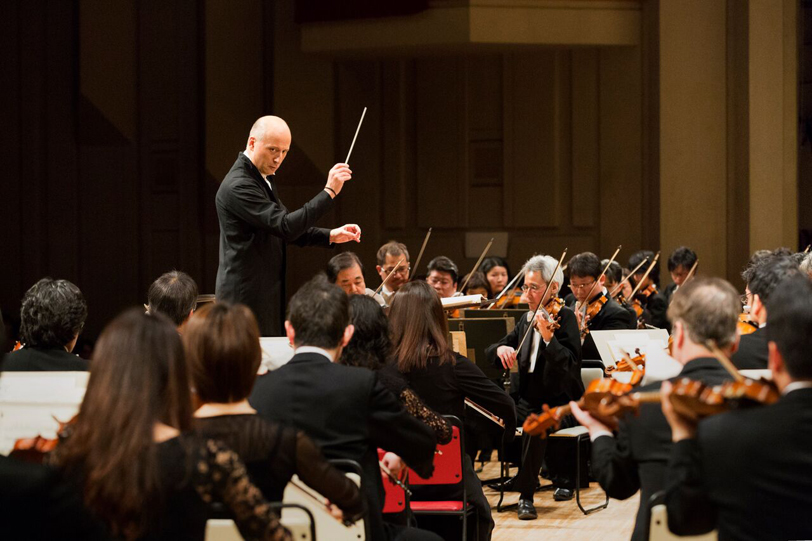 When Paavo Järvi and the NHK Symphony first performed together in London in 2017, the reviews said it all: 'a swashbuckling performance' (The Guardian), 'stunningly dramatic' (The Times) and 'magnificent' (Bachtrack). Join Järvi and the renowned Japanese orchestra for their highly anticipated return visit to London with a programme to indulge the senses.

The evening begins with Takemitsu's beautiful How slow the wind, in which a seven-tone motif moves in a subtly changing cycle, creating an impression of delicate natural forces. Its gorgeous harmonies and textures create a soundworld reminisent of Debussy.

The restrained use of the orchestra in Schumann's Concerto for Cello provides a backdrop for the soloist's impassioned melodies. Listeners should look forward to the work's romantic opening and dreamily poetic slow movement. The Financial Times says of soloist Sol Gabetta: 'She commands the sort of technique that unravels even the fiercest knot with apparently nonchalant savoir-faire.'

The luxuriously sentimental sweep of Rachmaninov's Second makes it one of the greatest of all Russian symphonies. The composer was devastated by the premiere of his First Symphony, which went exceptionally badly, resulting in a long stretch of writer's block and extensive consultation with the psychiatrist Dr. Nikolai Dahl.

It was 12 years later that Rachmaninov was finally able to produce his Second Symphony. While he continued to be haunted by memories of his earlier failure, he was vindicated by the triumphant reception of his second attempt.
The Guardian called the NHK Symphony Orchestra's most recent appearance at Royal Festival Hall 'a rare UK showcase for an ensemble on bristlingly good form.'

Over almost a century, the illustrious Japanese orchestra has been conducted by names including Herbert von Karajan, Wolfgang Sawallisch, Vladimir Ashkenazy, Herbert Blomstedt and now Paavo Järvi.

Performers
NHK Symphony Orchestra Tokyo
Paavo Järvi conductor
Sol Gabetta cello

Repertoire
Takemitsu: How slow the wind
Schumann: Cello Concerto
Interval
Rachmaninov: Symphony No.2
Date: 24 February 2020, 7:30 pm
Venue: Royal Festival Hall, Southbank Centre, London