Cymbeline by William Shakespeare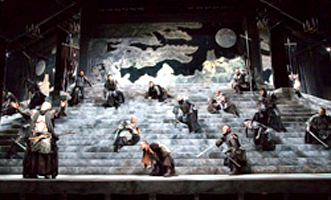 Internationally renowned for his visually powerful adaptations of Shakespeare, legendary director Yukio Ninagawa returns to the Barbican with his eagerly-awaited production of Shakespeare's romance tragedy, Cymbeline.
Full of sexual jealousy, tension, intrigue and magic, the play follows Princess Imogen, who has secretly married the lowly Posthumus for love. When the secret is out, she incurs the wrath of her father King Cymbeline, and becomes the target of the dangerous schemings of her evil stepmother.
Corolianus, directed by Yukio Ninagawa © Hirotaku Shimizu
Ninagawa's previous directorial credits at the Barbican include Musashi, Hamlet, Coriolanus and a Kabuki Twelfth Night. Cymbeline is part of the World Shakespeare Festival, which is produced by the Royal Shakespeare Company for London 2012 Festival.
'Yukio Ninagawa's Japanese Shakespeare productions have been among the experiences of a lifetime.' The Guardian
Age guidance 12+
In Japanese with English surtitles
Cast includes Hiroshi Abe and Shinobu Otake
Date: 29 May – 2 June 2012
Venue: Barbican Centre, Silk Street, London EC2Y 8DS
Barbican box office: 0845 120 7550
Web: http://www.barbican.org.uk/theatre/event-detail.asp?ID=12418
Tickets: from £16
Organiser: The Barbican