Office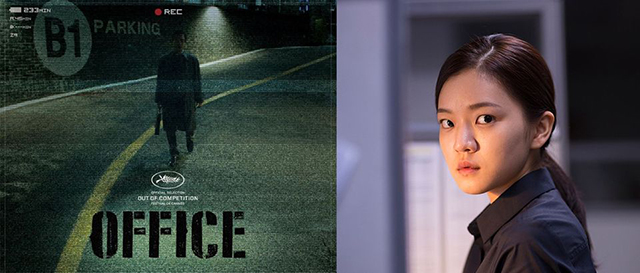 Director: Hong Won-chan
Cast: Ko A-sung, Park Sung-woong, Bae Seong-woo, Kim Eui- sung
Korea / Korean with English subtitles
Thriller / 111 mins / 2015
When a corporate middle manager vanishes after killing his family, a seemingly ordinary open-plan workplace in a modern high-rise becomes the setting of every office worker's worst nightmares.
One evening, Kim (Bae Seong-woo), seemingly a model member of a corporate sales team, murders his entire family without provocation and disappears into thin air. Homicide detective Choi (Park Sung-woong) starts his investigation at Kim's office, where he comes to suspect that all the killer's colleagues all have something to hide, including even the shy, hard-working intern (Ko A-sung) whom Kim befriended. Kim's colleagues, already under stress from the relentless pressure poured on by their sociopathic department head (Kim Eui-sung), increasingly fear that Kim's insane act of slaughter may spell doom for all of them. Meanwhile, Choi finds CCTV footage showing Kim entering the office parking lot soon after the killing. But no footage can be found that shows him leaving…
This ingenious exercise in spine-tingling suspense is also a sharp portrayal of poisonous workplace politics and the anguish felt by office workers in a society where fierce competition is the norm. Highly regarded scriptwriter Hong Won-chan (The Chaser, The Yellow Sea) makes his assured directorial debut with this outstanding contemporary thriller. Hong makes effective use of the tension, uncertainty, and psychological isolation of the corporate world, making them parts of a nightmare that feels all too real.
Date: Sunday 25th Oct, 1:00pm
Venue: Odeon Panton street