Okuni (kabuku dancer)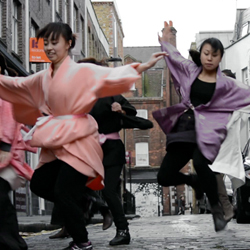 It was in sixteenth century Japan, as Shakespeare was writing his masterworks half a world away, that the passion and dedication of one woman dancer, Okuni, gave birth to the spirit of Kabuki theatre (Japanese traditional theatre). 'Ka' means 'sing'; 'bu' means 'dance'; 'ki' means 'act'.
This is the story of the reinvention of the woman dancer Okuni through of her creation of Kabuki theatre. Okuni 's dance troop initially drew inspiration from traditional theatre to become the most celebrated dance group of its time, and thus attracted top dancers Okiku and Matsu. But their success did not last. The mannerism of their dance moves ended up boring the audiences, while Okuni's aging cost her many admirers. To overcome her appearance she resorted to anti-wrinkle creams and breast uplift massage, but to no avail. The younger woman dancer Okiku was clearly going to supplant her. Okuni thus tried out various dance styles – and finally she came up with a new idea. She disguised herself as male dancer, with exaggerated make-up and stilted and stylized motions, and forced male dancer Densuke to play a female role.This was the genesis of Kabuki theatre. Since the word kabuki is believed to derive from the verb kabuku, meaning 'to lean' or 'to be out of the ordinary', kabuki can also be interpreted as 'avant-garde' or 'bizarre' theatre.
A radical reinterpretation of Kabuki theatre, with added comedic slant and ironic quotation of martial arts appear in this Kabuki theatre played by amazing dancers and actors.Directed and choreographed by Akiko Ono.
Admission: £9.50 / Concession: £8
Date: 11 May 2014, 14:30 – 15:30 / 12 May 2014, 18:00 – 19:00
Venue: The Warren Main House, 10 Steine St, Brighton BN2 1TE
Tel: 01273 91 7272
Email: info@otherplaceproductions.co.uk
Web: http://boxoffice.brightonfringe.org/dance/6145/okuni-kabuki-dancer
Organiser: Akiko Dance Project