OSAKA HAMLET  大阪ハムレット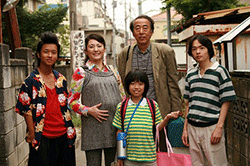 The film is based on a manga by the same name, which was published between 2005 and 2006 and has been awarded several prizes, including the Osamu Tezuka Short Work Award.
Yukio is confused. Soon after his father dies his clumsy uncle shows up unexpectedly, and his mother strangely welcomes him into their family as if he were her husband. From that time on, everything starts getting strange. One day at school, Yukio's teacher tells him that he resembles Shakespeare's Hamlet, making him wonder why. His older brother, Masashi, has given up preparing for his high school entrance exam, while his younger brother, Hiroki, tells his classmates that he wants to be a girl and decides to play the role of Cinderella in the school play.
It is a heart-warming story of a few ordinary people living in downtown Osaka, focusing on their everyday relationships and struggles.
Date: 29 September 2015, 6.30pm
Venue: The Embassy of Japan in the UK, 101 – 104 Piccadilly, London W1J 7JT
Web: http://www.uk.emb-japan.go.jp/en/event/films/films_booking.html
Organiser: The Embassy of Japan in the UK